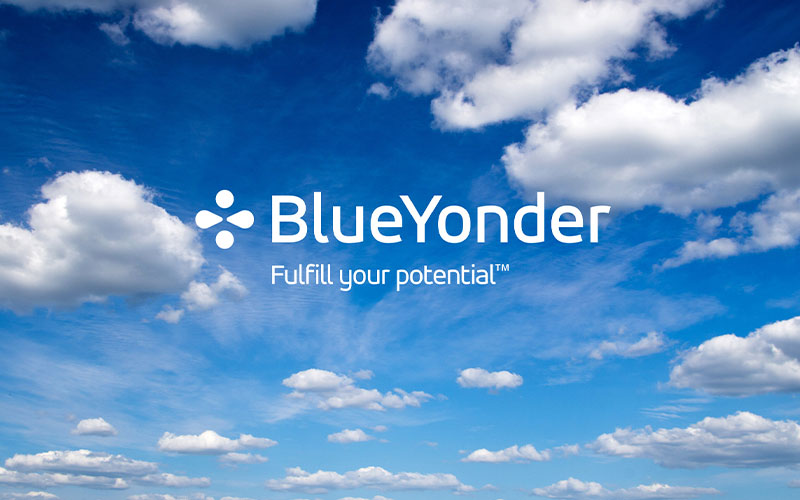 On its 35th year anniversary, the Company's new brand name fully embraces move to the cloud, and commitment to endless innovation
Scottsdale, Ariz. – February 11, 2020 – JDA Software, Inc., today announced that it will be named Blue Yonder effective immediately. The name change is part of a re-branding initiative to better align the Company's name with its cloud transformation and product roadmap, embracing a future full of endless innovation, continuous improvement and outstanding customer experience. The rebrand comes with a new tagline "Fulfill Your PotentialTM" which reflects the Company's mission to empower every organization and person on the planet to fulfill their potential.
"After great contemplation and research, we have come to the conclusion that our company brand needs to reflect the major transformation that our business has undergone in recent times. We have outgrown the name and it is time for us to rename the company," said Girish Rishi, chief executive officer, Blue Yonder. "Today is a momentous, historical day for us, as our 5,300 global associates celebrate the success of a company that came to be 35 years ago and as we position ourselves for the journey beyond. As we start a new era with a brand name that represents the realities of today and the aspirations for the future, we are ensuring that our investments and execution embody the essential elements that bring huge value for our 3,300 customers and our partners globally."
JDA acquired Blue Yonder, the market leader in AI and ML supply chain and retail solutions in August 2018. Evolving the JDA brand – and name – to Blue Yonder – further supports the massive impact of artificial intelligence (AI) and machine learning (ML) technologies across the supply chain, logistics and retail markets. Blue Yonder's leading AI/ML technology powers the Company's Luminate™ end-to-end, digital fulfillment platform.
The Luminate platform delivers the fastest, most cost-effective and sustainable response to demand signals. It integrates and synchronizes forecast, warehouse and transportation execution labor and delivery across multiple channels – reducing latency driven by disjointed systems. Luminate delivers real-time visibility and orchestration, helping companies better predict, plan, manage and optimize the inventory and labor required to deliver the right product, at the right price, at the right time, to the consumers' channel of choice.
Complementing the name change is a new Blue Yonder brand identity, reflecting a fresh, modern perspective and infinite possibilities for its customers, partners, associates and investors. Over the next two months, the Company will transition from JDA and roll-out the new Blue Yonder brand identity to its global offices, customers, partners, associates and investors, including a new website at blueyonder.com to be launched in Q1. A brand marketing and advertising campaign will launch the new Blue Yonder brand beginning in Q2 and throughout 2020.
"Today, we are going all-in on blue. As the new Blue Yonder, our name now powerfully reflects the transparent, open culture we have built and the endless possibilities and frontiers that are in front of us. I look forward to working with our 5,300 brand ambassadors to build the world's best digital fulfillment platform, company and culture with the hashtag #offwego binding us together," said Kevin Iaquinto, chief marketing officer, Blue Yonder. "Our new brand fully embodies who we are now, a united company with one simple goal: to provide endless innovation and continuous improvement that fully allows our associates, customers and partners to fulfill their potential."
About Blue Yonder, Inc.
Blue Yonder (formerly JDA Software, Inc.) provides seamless, friction-free commerce, empowering every organization and person on the planet to fulfill their potential. Blue Yonder's machine learning-driven digital fulfillment platform enables clients to deliver to their customers when, how and where they want it. Applying over 35 years of domain expertise, contextual intelligence and data science, Blue Yonder is helping more than 3,300 of the world's leading manufacturers, retailers and logistics companies create more autonomous, sustainable and profitable operations. blueyonder.com
"Blue Yonder" is a trademark or registered trademark of Blue Yonder, Inc. Any trade, product or service name referenced in this document using the name "Blue Yonder" is a trademark and/or property of Blue Yonder, Inc.
In The News
Analyst Reports