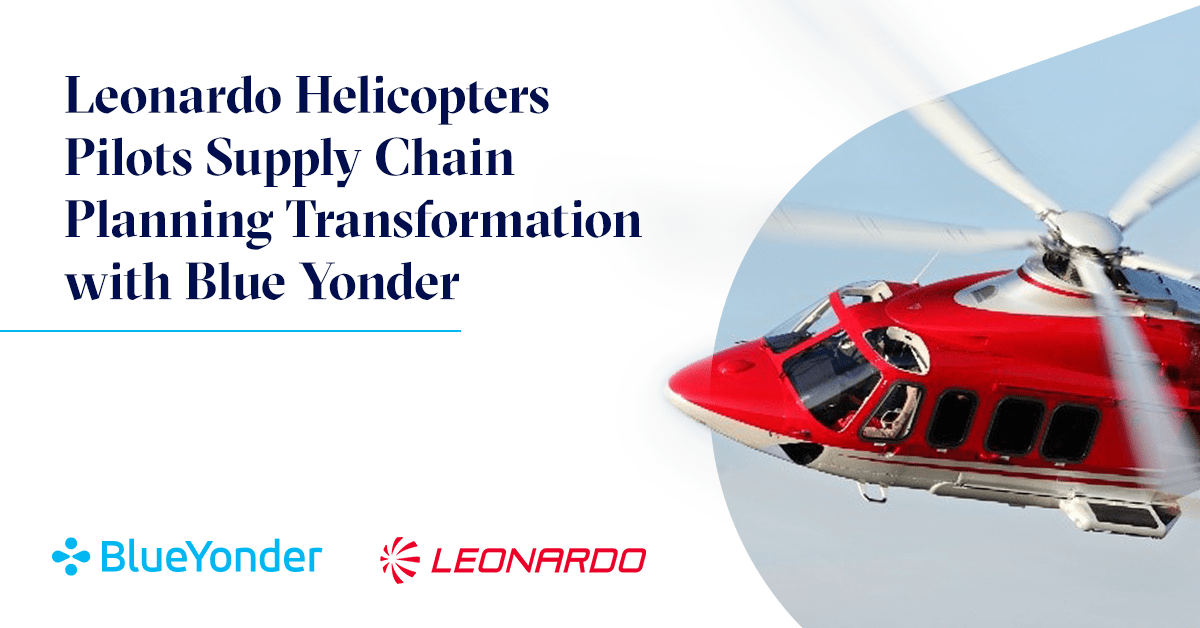 Leonardo Helicopters has selected Blue Yonder to support its supply chain digital transformation plans. Leonardo has chosen Blue Yonder's SaaS-and cloud-based LuminateTM Planning to power demand planning, inventory optimization and supply planning & replenishment capabilities to support its aftermarket parts planning processes.
Leonardo is a leading rotorcraft OEM acting in the global civil, public service and military market and offering a wide range of latest generation products and customer services. The company's helicopters support rescue/medical operations, security needs, executive and private transport, and military tasks. The company was looking for a new spare parts forecasting and supply planning tool for its commercial division to replace its current system.
With Luminate Planning from Blue Yonder, Leonardo Helicopters will be able to:
Support its business growth while minimizing costs and investment.
Maximize current inventory before making new purchase.
Increase planning automation and efficiency.
Introduce scenario planning optimization capabilities.
"Technological innovation is one of the cornerstones of our strategic plan, so we needed an innovative supply chain solution to meet both market demands and future growth needs. Our key objective is to increase our service levels across the entire Leonardo Helicopters worldwide logistics network, and we are looking forward to accomplishing this with Blue Yonder. Their industry experience along with the expertise of their people made them the right choice to be our supply chain partner for this project," said Giovanni Cecchelli, VP Customer Support & Services, Leonardo Helicopters.
Blue Yonder's Luminate Planning solution gives Leonardo Helicopters a more accurate view into demand by consolidating and synchronizing demand signals and external variables across the company's network.
Improved demand planning combined with inventory optimization will enable Leonardo Helicopters to align inventory planning, inventory strategy, and inventory execution processes with strategic business goals for service, production, and distribution. Leonardo Helicopters will be able to evaluate scenarios and leverage prescriptive recommendations to enable more accurate decisions; from staging the right inventory through the distribution network to minimizing stock-outs while maximizing inventory tuns.
"We are looking forward to collaborating with and helping Leonardo Helicopters improve its business and customer-facing processes for inventory planning and forecasting to gain better visibility into their aftermarket parts supply chain. As a true leader in their sector, their digital transformation will ensure they are able to meet customer service levels while rightsizing inventory," said Johan Reventberg, President – EMEA, Blue Yonder.
In The News
Analyst Reports