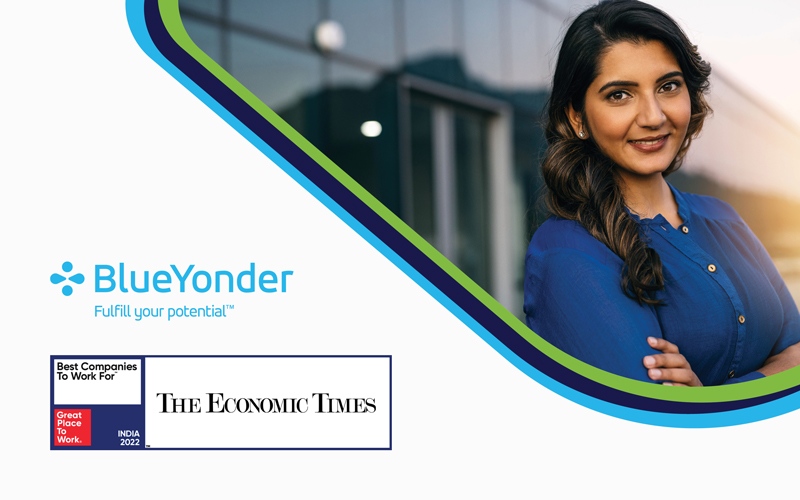 Blue Yonder, the world leader in digital supply chain transformations and omni-channel commerce fulfillment, has been recognized by Great Place to Work® India among India's Top 100 Best Companies to Work For – 2022. Based on a rigorous evaluation methodology, Great Place to Work® India recognized Blue Yonder for its people practices crafted for employees, and for proactively acting on the feedback to create a high trust culture.
"At Blue Yonder, we have built a unique culture that is driven by our Core Values of Empathy, Results, Relentless, and Teamwork that encompass an unwavering commitment to lifelong learning, collaborating with respect, operating with integrity, and always putting people at the center of everything we do," said Vinok Sequeira, senior vice president, Associate Success, Blue Yonder India. "We are humbled to receive this recognition; it encourages each and every Blue Yonder associate to push forward and keep building on our amazing culture."
Great Place to Work® is a global authority on workplace culture. They have been studying employee experience and people practices across organizations for over three decades. Every year, more than 10,000 organizations from over 60 countries partner with Great Place to Work® Institute for assessment, benchmarking, and planning of actions to strengthen their workplace culture.
"This recognition is due to relentless work put in by every associate of the organization. Great Place to Work's vision is to make India a great place to work for all and at Blue Yonder our DIVE (Diversity, Inclusion, Value, and Equality) initiative is built on the same goal. It is part of our commitment to create an inclusive and diverse environment where associates can grow and thrive with the freedom to be unique and authentic," said Somya John, vice president, Associate Success, Blue Yonder India.
This recognition adds to Blue Yonder's list as 100 Best Arizona Companies by BestCompaniesAZ, Great Place to Work-Certified™ For Second Year in India, Top 75 of India's Best Workplaces in the IT & IT-BPM sectors in 2021 by Great Place to Work® India., India's Best Workplaces for Women 2021 by Great Place to Work® India, India's Best Leaders in Times of Crisis by Great Place to Work, Glassdoor Best Places to Work in 2020, and a 2021 Arizona's Most Admired Companies by AzBusiness magazine and BestCompaniesAZ – validating the company's strong workplace culture that is ingrained in its more than 5,700 associates worldwide.
In India, the Great Place to Work® partners with 1,100+ organizations annually, across over 21 industries, to help them build High-Trust, High-Performance Cultures™ designed to deliver sustained business results. Hundreds of leading CXOs from India Inc. are part of the great place community that is committed to the vision of making India a Great Place to Work FOR ALLTM. Learn more at www.greatplacetowork.in.