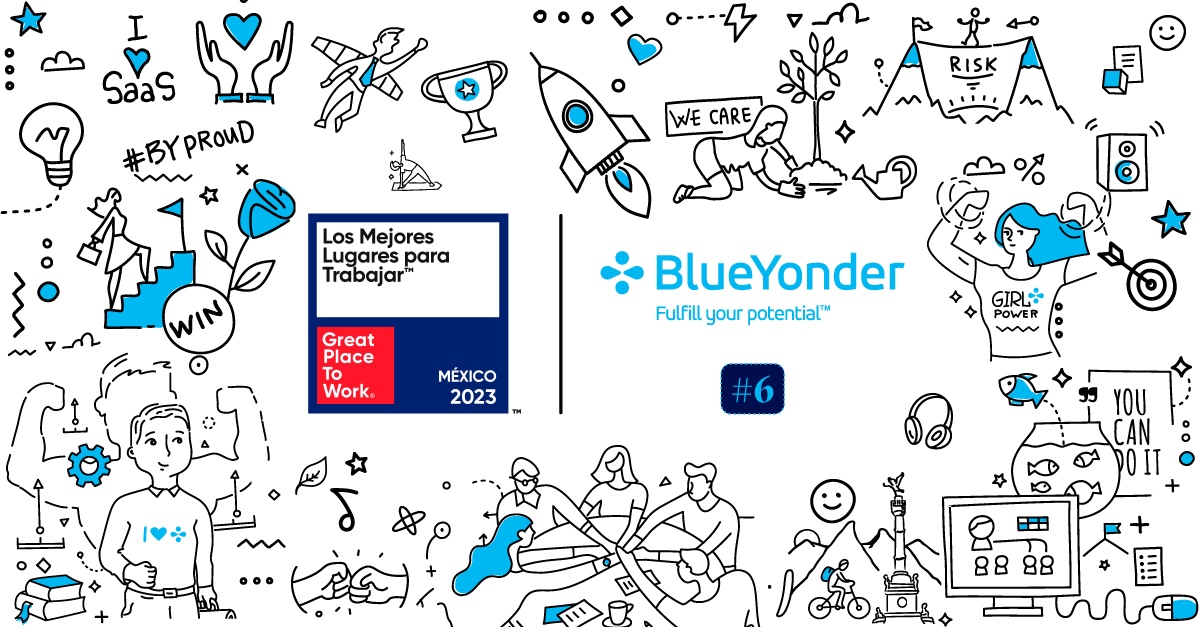 Blue Yonder, the world leader in digital supply chain transformations and omni-channel commerce fulfillment, has been recognized by Great Place To Work® Mexico as among Mexico's Best Companies To Work For™ 2023. Blue Yonder came in #6 in the "50-500 Multinational Companies" category.
"We are blown away to be ranked #6 in our category for Mexico's Best Companies To Work For – 2023 given it is our first year on the list! We are proud to receive this prestigious recognition from Great Place To Work® Mexico. Our commitment to fostering a diverse yet inclusive environment empowers us to collaborate seamlessly in solving complex supply chain challenges, all while meeting the evolving needs of our customers," said Nathalie Carruthers, chief associate success officer, Blue Yonder.
"We are proud of this recognition and the fact that we are the only software company in the Top 6 in our category. We are grateful to Great Place To Work® Mexico for recognizing our organization and validating our strong commitment to our team in Mexico. We remain dedicated to creating an even better workplace experience and fostering an environment where our associates can thrive with trust and freedom," said Jorge Sanchez, corporate vice president, Blue Yonder.
Backed by 30 years of data, Great Place To Work® is the global authority on workplace culture. Through its proprietary For All™ Model and Trust Index™ Survey, it gives organizations the recognition and tools to create a consistently positive employee experience. Its mission is to help every place become a great place to work for all, driving business growth, improving lives, and empowering communities. Through globally recognized and coveted Great Place To Work Certification™ and highly competitive Best Workplaces™ Lists, Great Place To Work® enables employers to attract and retain talent, benchmark company culture, and increase revenue. Its platform enables leaders to truly capture, analyze and understand the experience of every employee, and compare outcomes with data collected from more than 100 million employees in 150 countries worldwide.
This recognition adds to Blue Yonder's recent workplace awards – validating the company's strong workplace culture that is ingrained in its more than 6,000 associates worldwide – including:
Great Place To Work Mexico's mission is to make Mexico the best place to work and live. They do this by believing in the greatness of Mexico and in the power of work to transform the lives of millions of Mexicans. The Best Places to Work Mexico list recognizes the community of companies that stand out for their results that benefit thousands of employees. Learn more at: greatplacetowork.com.mx.
In The News
Analyst Reports