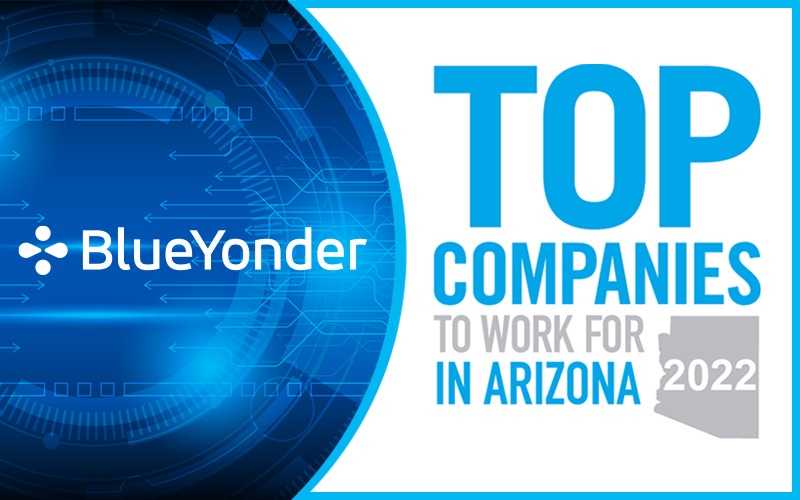 Blue Yonder, a world leader in digital supply chain and omni-channel commerce fulfillment, has been named one of the 2022 Top Companies to Work for in Arizona by BestCompaniesAZ, Arizona Capitol Times, and Best Companies Group.
This incredibly selective list results from anonymous employee surveys measuring culture, work environment, leadership, and employee pride and satisfaction, blended with rigorous evaluations of workplace practices, policies, perks, and demographics.
"We are proud to be recognized as one of the Top Companies to Work for in Arizona. We strive to create an inclusive and diverse environment where associates can grow and thrive through our Core Values and DIVE initiative. Our associates are the heart of the company, so this award recognizes the contributions they put in to make this a great place to work. They work hard on a daily basis to ensure our customers can pivot around supply chain challenges so that the essentials like food, water and medicine get to where they are needed most," said Nathalie Carruthers, executive vice president, chief associate success officer, Blue Yonder.
This recognition, along with Blue Yonder's past recognitions as Arizona's Most Admired Companies by Az Business magazine and BestCompaniesAZ and as a "Hot Company to Watch in 2022" by Nucleus Research, further showcases the company as one of Arizona's leading employers, validating its strong workplace culture that is ingrained in its more than 5,900 associates worldwide. The organization's contributions toward cultural growth, product and service execution, and customer relations have inspired a recognizable initiative in allowing associates to further Fulfill their Potential™.
"This year's Top Companies were selected based on the results of a very high favorable employee survey scores averaging 90% overall survey results and an impressive 91% overall employee engagement. This level of performance for Arizona companies is about three times the national average when compared to Gallup's recent reporting of U.S. engagement at about 33% favorable," says Jaime Zepeda, executive vice president, Best Companies Group. "These winners should be very proud of their Top Companies status for this presents a powerful opportunity to attract and retain the very best talent."
The Top Companies will be honored at a virtual event on Aug. 23 and a special supplement listing the rankings will be published by Arizona Capitol Times and BestCompaniesAZ on Aug. 26. For award details, visit www.TopCompaniesArizona.com.
For career opportunities at Blue Yonder, visit careers.blueyonder.com.
In The News
Analyst Reports