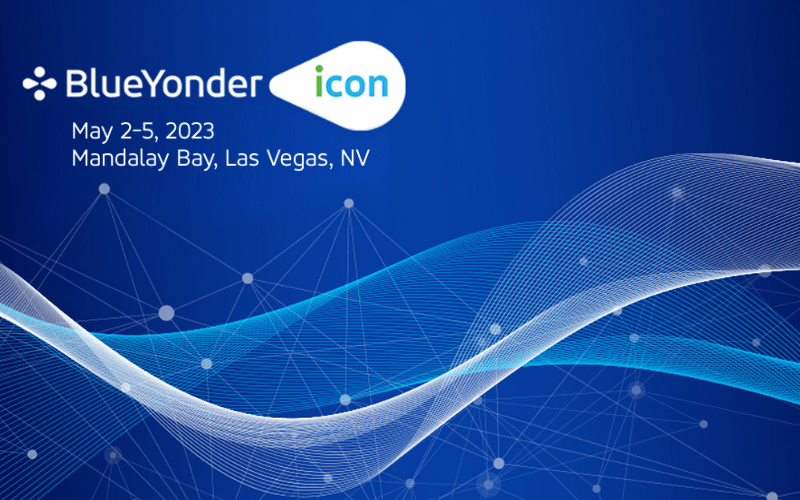 Customers can "Prepare for a New Tomorrow" at ICON 2023 by learning how innovation and digital transformation help drive a competitive advantage
SCOTTSDALE, Ariz. – April 5, 2023 – Supply chain executives need to be aware how digital transformation and innovation – across supply chain and commerce fulfillment – can help them meet their business goals and overcome disruptions. That's why they are invited to attend ICON 2023, Blue Yonder's annual customer conference, taking place both in-person and virtually May 2-5, 2023, from Las Vegas. The premier conference for manufacturing, logistics and retail industry leaders features over 200 educational sessions, including 60-plus customer presenters, along with an Expo Hall that will feature Blue Yonder's solutions and 60 ecosystem partners.
This year's keynote speaker will be Dr. Kate Darling, research scientist at the MIT Media Lab and author of "The New Breed." With ChatGPT on the forefront of every technology leader's agenda, Dr. Darling will examine the evolution of robotics and AI, how companies should be using – and leading the way with! – this technology, and what these innovations mean for supply chain – and humans.
Featured general session speakers include these supply chain and retail leaders:
Paul Daugherty, group chief executive – Technology and chief technology officer, Accenture
Steve Lewis, division president, GXO
Karen Brown, deputy chief technology officer, Sainsbury's
Meinir Childs, director of supply chain, Sainsbury's
Frank Slootman, chairman and CEO, Snowflake
Duncan Angove, CEO, Blue Yonder
Salil Joshi, chief technology officer, Blue Yonder
Wayne Usie, chief strategy officer, Blue Yonder
Darren Saumur, president, Customer Experience and Cloud, Blue Yonder
Susan Beal, chief customer officer, Blue Yonder
Other Blue Yonder customer and industry speakers at this year's event include representatives from more than 60 leading brands such as: AbbVie, Anheuser-Busch InBev, Arcadia Cold, Armada, Atlanta Bonded Warehouse, Bayer Crop Science, BJ's Wholesale Club, Chevron, Canadian Tire, Cepheid, Coca-Cola North America (CONA), Compañía Cervecerías Unidas S.A. (CCU), Echo Global Logistics, FleetPride, GXO Logistics, Honeywell, Knauf, Loadsmart, Loblaw Companies Limited, Mars, Nestlé Purina Petcare, PepsiCo, Redwood Logistics, REI, Sainsbury's, Sprouts Farmers Market, School Specialty, Surge Transportation, Texas Tech University, and The Source.
"Supply chain is having more than just a moment and it is technology that will help retailers, manufacturers, and logistics providers find themselves on top. The pandemic changed the way the world talked about supply chain and it also changed the business case for it, giving executives a chance to make investments where it matters through technology and innovation," said Duncan Angove, CEO, Blue Yonder. "ICON is the premier supply chain conference and with more than 60 leading brands showcasing their stories of transformation and reinvention success, companies won't want to miss joining us to hear from their peers along with Blue Yonder-led sessions that will highlight how we can help transform your supply chain. Customers will also hear how we are reshaping supply chains with technologies like AI / ML, ChatGPT, Snowflake, and Azure."
ICON 2023 will also feature an extensive Innovation Experience where attendees can:
Interact with the latest SaaS solutions for supply chain planning, merchandising, category management, warehouse, transportation, labor, and order management.
Participate in our Commerce Experience Zone showcasing a new way of delivering connected customer experiences from online to in-store and browse through fulfillment.
Engage with 60 Blue Yonder ecosystem partners and learn how their technology enhances Blue Yonder's supply chain and commerce solutions.
Network and meet with Blue Yonder and other industry experts.
Attendees will also enjoy a live performance onsite with "Mr. Worldwide," Pitbull.
Diamond partner sponsors at ICON 2023 include: Accenture, HCL, Microsoft, Panasonic, and Plantensive, a MorganFranklin Company. Accenture will also sponsor Blue Yonder's Executive Exchange, an invitation-only program held in conjunction with ICON 2023 geared for company executives to network and share perspectives and experiences on driving supply chain sustainability, resilience, and reinvention.
Additional Resources:
About Blue Yonder
Blue Yonder is the world leader in digital supply chain transformations and omni-channel commerce fulfillment. Our end-to-end, cognitive business platform enables retailers, manufacturers and logistics providers to best fulfill customer demand from planning through delivery. With Blue Yonder, you'll unify your data, supply chain and retail commerce operations to unlock new business opportunities and drive automation, control and orchestration to enable more profitable, sustainable business decisions. Blue Yonder – Fulfill your Potential™ blueyonder.com
"Blue Yonder" is a trademark or registered trademark of Blue Yonder Group, Inc. Any trade, product or service name referenced in this document using the name "Blue Yonder" is a trademark and/or property of Blue Yonder Group, Inc. All other company and product names may be trademarks, registered trademarks or service marks of the companies with which they are associated.
###
In The News
Analyst Reports