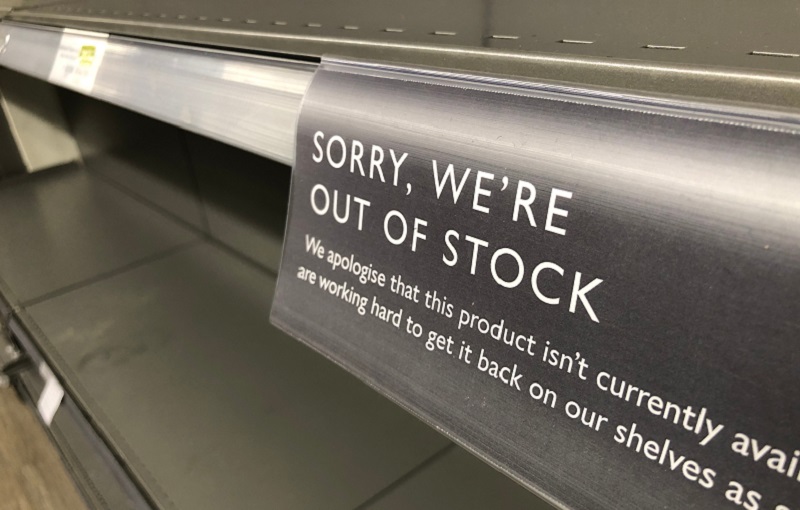 The 2020 holiday season is becoming increasingly unpredictable for consumers and grocery retailers with each passing day, especially with a potential third wave of COVID-19 looming. Blue Yonder is committed to helping its customers and their consumers plan for the unexpected and navigate the pandemic's evolving obstacles.
Following our August holiday consumer survey and to better understand the consumer perspective around COVID-19 grocery shopping habits, Blue Yonder surveyed another 1,000 U.S. consumers between Oct. 27-28, 2020, to learn how they will be preparing for the holidays and a possible third wave. Key findings highlight overwhelming concerns about out-of-stock products, evolving stockpiling trends and shrinking holiday gatherings.
Consumers Concerned About Out-Of-Stocks
69% of consumers are experiencing moderate to a great deal of concern about out-of-stock groceries heading into the holiday season
42% of consumers are stocking up when products are available versus when they need them
Consumers are stocking up most on paper goods (76%), cleaning supplies (71%), and food products (69%)
55% of consumers are stockpiling to avoid the issue of out-of-stock products
Stockpiling, hoarding and pantry-loading have all become household terms in 2020 due to the pandemic's stifling impacts on global supply chains. Consumers who frantically stocked up on non-perishable foods, paper products and cleaning/disinfecting supplies back in March have depleted their rations and are back at it again in preparation for another wave of lockdowns as infection rates surge.
While supply chains caught up over the summer with demand, concerns are high again ahead of the winter months and consumers – as well as entire nations – are stocking up early to ensure they're prepared. This time around, consumers will not be able to return products as many grocery retailers set up policies that all sales around paper and cleaning/disinfecting supplies is final.
According to forthcoming research from Blue Yonder, set to be released shortly, 66% of grocery retailers reported out-of-stocks was their biggest fulfillment challenge. To cope with this, retailers are investing in inventory for products that were heavily shopped and hoarded during previous peaks. They are also adopting advanced solutions that enable accurate forecasting, replenishment and pricing to effectively maintain in-stock status, manage costs and position inventory.
Curbside Pickup Remains Strong, Delivery and Meal Box Lag
22% of consumers prefer curbside pickup, the same as compared to August
14% prefer grocery delivery, down from 17% in August
1% prefer a grocery meal box kit service, down from 5% in August
Most consumers (63%) prefer to purchase groceries in-store during the pandemic
Although there was a significant increase in online grocery ordering during the spring, our research continues to show that in-person shopping remains the preferred method of grocery shopping for most consumers. While this trend persists, another spike in online ordering for delivery and curbside pickup is likely as nationwide COVID-19 cases surge. This new wave of cases may move some consumers into the online model, especially in the run-up to the holidays. In addition, as more retailers, both food and general merchandise, sign up with delivery services we may start to see an uptick in the preference for delivery.
While another migration to online channels will give grocery retailers an opportunity to flex inventories and fill demand from multiple locations rather than depending on store shelves to meet consumers' needs, it could impact delivery times and delays. Companies leveraging digital fulfillment solutions embedded with artificial intelligence (AI) and machine learning (ML) will enhance their omni-channel forecasting capabilities, allowing them to best position inventory ahead of sales.
Small Holiday Gatherings Get Even Smaller
53% of consumers don't plan to host a holiday celebration this year, up from 48% in August
41% plan to host a small gathering (3-5 guests) and 48% plan to host a medium gathering (6-10 guests)

In August, 38% planned to host a small gathering and 44% planned to host a medium gathering
The number of consumers planning to host holiday celebrations this year continues to decline every month and those hosting are increasingly pivoting to smaller sized gatherings, especially as some states are now mandating reduced in-home gatherings to 10 or less people. This is not surprising, as the Centers for Disease Control and Prevention (CDC) is advising against travel and celebrating with anyone outside the household for the upcoming holidays. Shopping in-store just before, on or after a holiday is also categorized as a high-risk activity.
If case counts continue to increase and consumers heed available guidelines, not only will online grocery ordering likely see an uptick, but in-store product mixes, quantities, and prices will need substantial overhauling and reevaluation to efficiently meet reimagined holiday demands. This aligns with our forthcoming research report, as 48% of grocery retailers reported workforce management and real-time inventory visibility and orchestration as their top two priorities. Grocers need to look past the transitional trends of the week and instead focus on having better product management capabilities from origin to destination. They can't control the external macro factors, but they can control their internal operating capabilities to maximize sustainable successes.
For more information on how Blue Yonder is supporting grocery retailers this holiday season visit our website. Also stay tuned for our upcoming "Future of Fulfilment" survey, where we will investigate how logistics and fulfillment operations across retail and eCommerce have shifted as a result of the pandemic.
In The News
Analyst Reports