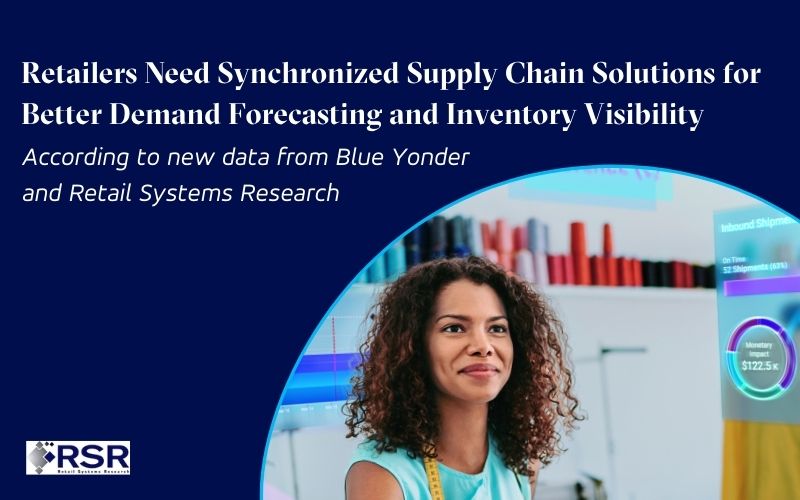 Report makes case for data-driven and AI-enabled supply chain solutions
SCOTTSDALE, Ariz. – Dec. 21, 2021 – Blue Yonder, the leading digital supply chain and omni-commerce fulfillment platform provider, and Retail Systems Research (RSR), the leader in retail technology research, have released a new benchmark report: "Retail Supply Chain: Navigating Through Rough Waters with Improved Agility."
The report demonstrated retailers are slow to make progress in addressing problems associated with demand forecasting and visibility into available-to-sell inventory. The survey also presented a strong case for prioritizing AI-centric supply chain solutions in the new year. You can download and read the full benchmark report here.
"Supply chain disruptions are top of mind as we head into the holiday season, but the weeks following this season may prove to be even more challenging for retailers," said Edward Wong, SVP Global Retail Sector Leader at Blue Yonder. "Retailers have benefitted from strong consumer spending so far, but inflation and supply chain delays are threatening to slow demand and weaken pricing power, potentially leaving retailers with a mountain of unsold inventory come January 1. The good news is retailers can employ AI-centric supply chain solutions to navigate these challenges."
The State of the Supply Chain
Even at the beginning of the pandemic in early 2020, retailers were not confident in their abilities to either see supply chain conditions in real time or model contingency plans to respond more effectively when disruptions occur. A year later, what confidence they had has only eroded according to the report:
41% of retailers say they can monitor capacity and add more when market conditions demand it, down from 56% in 2020
40% of retailers can currently understand the impact of bottlenecks and prioritize which ones need to be addressed, down from 48% in 2020
32% can currently simulate the effect of changes to the supply chain before implementation, down from 42% in 2020
The supply chain also now has new demands put on it, including a greater focus on sustainability. From the research, 93% of retailers agree or strongly agree they must find more sustainable practices and products to satisfy changing consumer tastes, with 51% saying they strongly agree with that statement.
Business Challenges
Although retailers are chipping away at problems that stand in the way of greater supply chain agility, they still have a long way to go. Retailers across fashion, general merchandise (GM), fast-moving consumer goods (FMCG) and fashion/specialty/brands were asked to identify the top challenges that a more agile supply chain would help their business address.
65% of FMCG retailers identified creating more flexible sourcing strategies due to geopolitical and environmental issues as their top concern
52% of GM retailers said rapidly changing consumer demands that undercut ability to buy big and lower costs was their chief concern
67% of fashion/specialty/brands retailers cited the need to be able to monitor and adjust the supply chain in real-time as their top challenge
Opportunities for Growth & Innovation
Retailers recognize the need for a more agile supply chain and see the solution in data and artificial intelligence (AI). And when asked to rank the top three opportunities associated with an AI-enabled supply chain:
60% of FMCG retailers said predictive models to anticipate supply chain disruptions at the individual SKU level and recommend cost-optimized corrective actions
41% of GM retailers said real-time and accurate visibility throughout the supply chain to better control timing and cost
38% of fashion/specialty/brands retailers said the ability to leverage external influences like macroeconomic factors, weather, consumer sentiment, demographic trends in mid-to long term forecasting to drive supply chain decisions
The report found that retailers aren't just thinking about these opportunities, but also budgeting for them as well. From the report, 60% of retailers are budgeting or have planned projects focused on current demand vs. forecast analysis & re-balancing.
"The pandemic has been hard on everyone, and it has only accelerated changes needed in the supply chain to meet the dramatically new and different ways that consumers shop," said Brian Kilcourse, managing partner, RSR Research. "While both over-performers ('Retail Winners') and their competition are equally eager to get past disruptions, Winners haven't given up on their relentless search for new efficiencies. In fact, achieving 'operational excellence' is a core strategy for Retail Winners, and recent disruptions on both the customer and supplier side of the operational model hasn't changed that at all."
Blue Yonder can help retailers make this shift and is attending NRF 2022: Retail's Big Show in New York City from Jan. 16-18, 2022, with a focus on helping retailers make "Smarter Customer Connections." If you are interested in scheduling a meeting to discuss this research or learn more about Blue Yonder's leading digital supply chain and omni-commerce fulfillment solutions, click here.
Research Methodology
RSR conducted an online survey in the summer and fall of 2021 and received answers from 90 qualified retail respondents. The report details the changes in retail supply chain processes and supporting technologies. RSR uses its own model, called The BOOT Methodology© to analyze Retail Industry issues. In RSR's surveys, the research group continues to find differences in thought processes, actions, and decisions cited above. The BOOT helps RSR to better understand the behavioral and technological differences that drive sustainable sales improvements and successful execution of brand vision. To learn more about RSR, visit www.rsrresearch.com.
About Blue Yonder
Blue Yonder is the world leader in digital supply chain and omni-channel commerce fulfillment. Our intelligent, end-to-end platform enables retailers, manufacturers, and logistics providers to seamlessly predict, pivot and fulfill customer demand. With Blue Yonder, you can make more automated, profitable business decisions that deliver greater growth and re-imagined customer experiences. Blue Yonder – Fulfill your Potential™ blueyonder.com
"Blue Yonder" is a trademark or registered trademark of Blue Yonder Group, Inc. Any trade, product or service name referenced in this document using the name "Blue Yonder" is a trademark and/or property of Blue Yonder Group, Inc. All other company and product names may be trademarks, registered trademarks, or service marks of the companies with which they are associated.


###
In The News
Analyst Reports