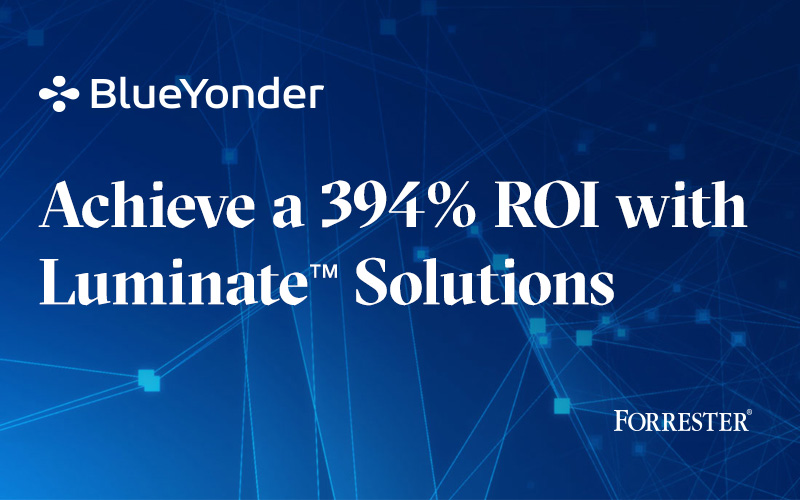 Customers realized close to $60 million in net present value (NPV) from Luminate SaaS solutions
SCOTTSDALE, Ariz. – Jan. 31, 2022 – With supply chains continually under pressure to keep commerce moving, companies need supply chain solutions that can provide end-to-end visibility, show value and a quick return on investment. According to the "The Total Economic Impact™ of Blue Yonder Luminate™," a commissioned study conducted by Forrester Consulting on behalf of Blue Yonder in January 2022, Blue Yonder's SaaS-based solutions do just that.
The financial analysis from the study found that companies had a net present value (NPV) of $59.79 million and a return on investment (ROI) of 394%. Most companies saw a ROI in less than six months. The study included interviews with nine decision-makers with experience using Blue Yonder's solutions including Luminate Logistics – warehouse management and transportation management – Luminate Control Tower, Luminate Commerce, and Luminate Planning.
"To truly digitally transform your supply chain, companies need end-to-end visibility, demand planning, omni-channel commerce, and execution capabilities. Our Luminate solutions, backed by artificial intelligence (AI) and machine learning (ML), provide our customers with data-driven insights to make smarter, more profitable decisions, allowing them to predict and pivot in times of disruption," said Vidhya Srinivasan, senior vice president, Platform and Portfolio Marketing, Blue Yonder. "We believe Forrester TEI study underscores that customers utilizing our SaaS-based solutions realize real-world value in the form of strong NPV and ROI, as well as a quick return on investment. The customer quotes in the study tell the real story!"
An e-commerce fulfillment director at a fashion retailer shared: "DC labor shortages and high-demand events put stress on fulfilling orders. For us, a backlog of over seven days is a real problem, and we oftentimes will send the item but not charge the guest for it. We have considered restricting the inventory we advertise on our website in the past. With Blue Yonder, this is no longer a worry."
Based on the calculations for a $10 billion company constructed by Forrester as part of the study based on seven of the decision-makers' organizations, the financial benefits of Blue Yonder's Luminate solutions include:
Labor productivities totaling $31.2 million.
Transportation costs reduced by $14.1 million.
Markdown reduction driving margin improvement of $15.3 million.
Out-of-stock inventory reduction resulting in margin increase of $6.5 million.
E-commerce labor, software and IT productivities of nearly $1.4 million.
Download the full "The Total Economic Impact™ of Blue Yonder Luminate" study here.
Additional Resources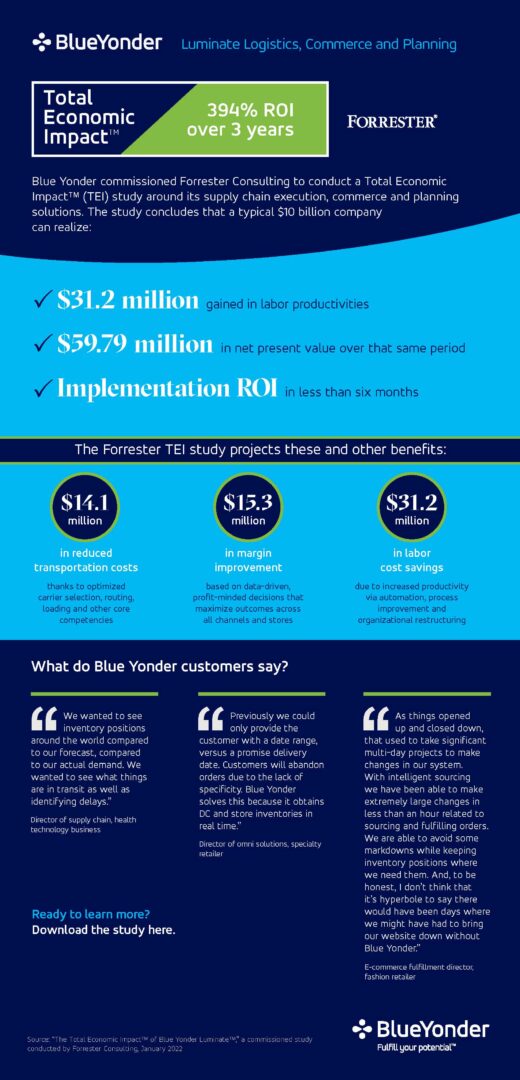 About Blue Yonder
Blue Yonder is the world leader in digital supply chain and omni-channel commerce fulfillment. Our intelligent, end-to-end platform enables retailers, manufacturers and logistics providers to seamlessly predict, pivot and fulfill customer demand. With Blue Yonder, you can make more automated, profitable business decisions that deliver greater growth and re-imagined customer experiences. Blue Yonder – Fulfill your Potential™ blueyonder.com
"Blue Yonder" is a trademark or registered trademark of Blue Yonder Group, Inc. Any trade, product or service name referenced in this document using the name "Blue Yonder" is a trademark and/or property of Blue Yonder Group, Inc. All other company and product names may be trademarks, registered trademarks or service marks of the companies with which they are associated.
###
In The News
Analyst Reports