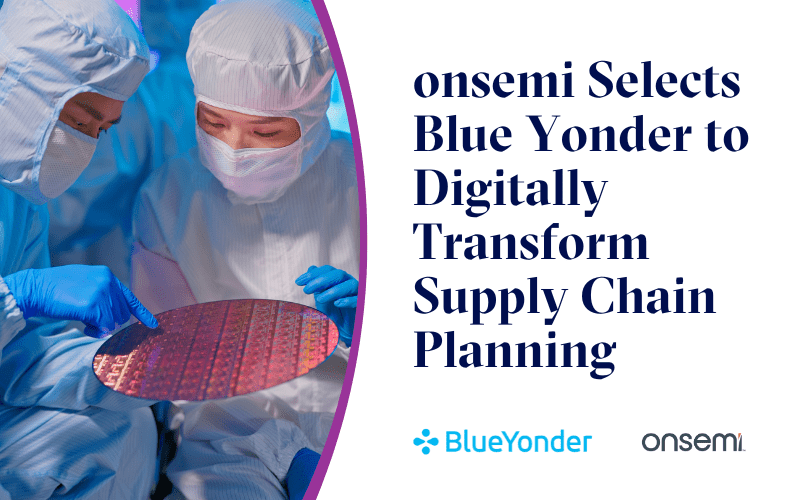 Leading semiconductor company to enhance end-to-end supply chain planning, optimize inventory, and drive revenue growth with Blue Yonder
SCOTTSDALE, Ariz. – June 6, 2023 – As the semiconductor industry continues its growth across disruptions and inventory imbalances, onsemi (Nasdaq: ON), a leader in intelligent power and sensing technologies, has chosen to  implement Blue Yonder's SaaS-based Supply Chain Planning solutions, including demand planning, supply planning, inventory optimization, and integrated business planning.
onsemi creates intelligent power and sensing technologies that solve the most challenging customer problems. The company is focused on automotive and industrial end-markets and is accelerating change in megatrends such as vehicle electrification and safety, sustainable energy grids, industrial automation, and 5G and cloud infrastructure. As part of its broader business and supply-chain transformation, onsemi selected Blue Yonder after evaluating multiple software solutions that could enhance onsemi's complex end-to-end supply chain and support the company's long-term growth plans.
With end-to-end, SaaS-based planning solutions from Blue Yonder, onsemi intends to:
Lead with a "Digital First" strategy to increase efficiency across all corporate domains.
Institute an advanced integrated business planning process to improve alignment between different functions in the organization.
Confidently respond to market demand in rapidly changing markets and position supply optimally for delivering to its customer commitments.
Maximize the return on investment in inventory and capital equipment across the manufacturing and distribution network.
Support its growth initiatives through highly responsive supply chain operations.
"Enabling the growth of our innovative and differentiated product portfolio meant that we needed a world-class supply-chain solution that could meet the complex requirements of our business. After a rigorous evaluation, we selected Blue Yonder as the provider best suited to support our current and future needs. We look forward to implementing this transformation project as part of our 'Digital First' strategy," said Chance Finley, vice president, Global Supply Chain Operations, onsemi.
"onsemi has seen significant growth of its innovative product portfolio. We are proud to have been selected as onsemi's supply-chain solution provider of choice to help address its complex, end-to-end planning needs. Our solutions will help onsemi make more accurate and faster decisions throughout the manufacturing and distribution network, allowing them to better serve their customers and investors," said Terry Turner, president – Manufacturing, Blue Yonder.
Additional Resources:
About Blue Yonder
Blue Yonder is the world leader in digital supply chain transformations and omni-channel commerce fulfillment. Our end-to-end, cognitive business platform enables retailers, manufacturers and logistics providers to best fulfill customer demand from planning through delivery. With Blue Yonder, you'll unify your data, supply chain and retail commerce operations to unlock new business opportunities and drive automation, control and orchestration to enable more profitable, sustainable business decisions. Blue Yonder – Fulfill your Potential™  blueyonder.com
"Blue Yonder" is a trademark or registered trademark of Blue Yonder Group, Inc. Any trade, product or service name referenced in this document using the name "Blue Yonder" is a trademark and/or property of Blue Yonder Group, Inc. All other company and product names may be trademarks, registered trademarks or service marks of the companies with which they are associated.
###
In The News
Analyst Reports