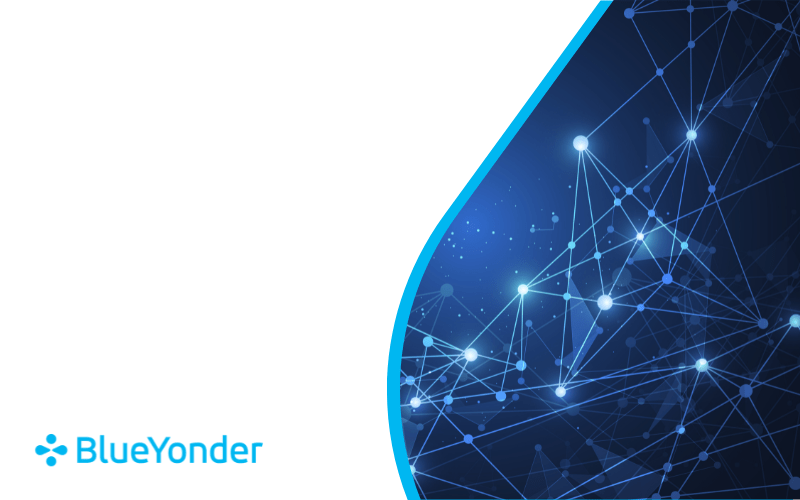 Leading supply chain solutions company reinforces its commitment to sustainability by hiring first-ever chief sustainability officer
SCOTTSDALE, Ariz. – Aug. 7, 2023 – Blue Yonder Holding, Inc. (Blue Yonder), a leading digital supply chain and omni-channel commerce fulfillment provider, today released its Q2 2023 Company Highlights and the industry trends that matter most heading into Q3 2023.
Quarterly Company Highlights
In Q2 2023, Blue Yonder continued to show its end-to-end strength in the market, including:
Added 42 new customer logos in Q2 2023. Some of the customers who selected or extended their footprint with Blue Yonder during the quarter include:

Americas: Adient, AKSI, Albertsons, Almavica, Bar S Foods, Carpenter Tech, Daitomo Parts, E2E, Jacksons Food Stores, Mayorsa, Meijer, Super Store Industries
Product innovations include:

Demand Planning and Deep Meta Learning: Blue Yonder is now using deep meta learning in its Demand Planning solution. This added capability offers customers accelerated time to value, faster decision-making, and optimized forecast accuracy. Combined with Blue Yonder's machine learning algorithms, which continuously learn and determine the best combination of demand factors from all available data, customers receive a set of optimized plans to review and select from, reducing scenario planning from hours to minutes. Existing Demand Planning customers utilizing Blue Yonder Machine Learning will see an immediate benefit given this SaaS-native, multi-tenant capability is now embedded in the solution.

Generative AI-Driven User Experience: As part of its AI First Initiative, Blue Yonder is working on the availability of the Luminate® Platform capabilities for secure and reliable use of Large Language Models (LLM) within the Blue Yonder suite to transform the user experience.
Showcased in 22 key technology industry analyst reports from ARC, Forrester, Gartner, IDC, Incisiv, and Nucleus Research, building on its industry leadership momentum (see full list below).
Elevating Sustainability
Reinforcing its commitment to sustainability, Blue Yonder hired it's first-ever chief sustainability officer, Saskia van Gendt. In this role, she is responsible for developing and executing Blue Yonder's sustainability strategy and driving sustainability initiatives in product roadmaps and across the company.
van Gendt is an environmental scientist with 17 years of experience in sustainability, previously working across consumer products, retail, government, and manufacturing. Most recently she was Head of Sustainability for Rothy's, a vertically integrated retailer best known for creating stylish, comfortable shoes from recycled plastic. At Rothy's, van Gendt pioneered the brand's commitment to circular production and net zero carbon, implementing programs for footwear recycling, zero waste manufacturing, and decarbonizing shipping. Prior to Rothy's, she worked as Senior Director of Sustainability at Method, a brand renowned for its plant-based and design-led cleaning products.
Industry Insights
Heading into the second half of the year, Blue Yonder shares insights shaped by its industry expertise and trends that are top of mind for customers and partners:
More Retailers Experimenting With AI: More retailers are experimenting with using artificial intelligence (AI) in marketing, merchandising and supply chain management, as well as operational efficiencies. Examples include more intelligent shopper targeting, more accurate demand forecasting, and more efficient labor scheduling.
Back to School Spending Will Be Robust: Consumers surveys indicate that back to school spending this year will be on-par or exceed last year's level. Some of the increase is a result of anticipated higher prices and fewer discounts. Parents surveyed expressed desire to shop both in-store and online.
Increased Shopping at Discount Stores: Due to inflation, higher prices and spending on services and travel, consumers are becoming more price-conscious and turning more to discount stores. Those who shop at a discount store increased their frequency of visits. Others are focusing more on discounts and promotions.
Climate Change Will Impact Logistics at Ports: As sea levels rise, climate change impacts the overall productivity of shipping industries worldwide. Sustainability will start to lead the way to transform supply chains to adjust and navigate the next 50 years in a more thoughtful way than the past. Using AI and data learnings to address climate changes, utilizing new fuel mixtures to lower sulfur levels, and optimizing port-to-port routes will start to become top of mind.
Manufacturers Working To Reduce Inventory Backlog: As the supply throughput increases and catches up with demand backlog, manufacturers (common across high tech/semiconductor industries) are faced with the challenge of discerning which backlog of orders are real and thus need to be fulfilled versus remnants of inflated orders (driven by customers who over-order when not getting 100% of their orders) that could lead to excess channel inventory if fulfilled.
Manufacturers Are Reconfiguring Supply Networks Due to Political Sensitivities: Manufacturers' move toward on-shoring, near-shoring, and/or friend-shoring has meant re-establishing sourcing partners and strategies, developing manufacturing capabilities (skills, investments, infrastructure), and re-configuring warehousing and logistics capacity in the newly configured supply network.
CPG Manufacturers Are Reducing Package Sizes: As the cost of living and rising inflation are forcing consumers to buy more private label in their shopping basket, consumer packaged goods (CPG) manufacturers have reacted by reducing package sizes to stay in the game. As a result, this brings changes in the supply chain, including putting the focus on squeezing out more to reduce costs to protect margins.
"As AI gains broader understanding and adoption, we will see more and more companies using it. With the growing volume and complexity of data, AI allows for quicker processing and analysis to help accelerate the decision-making process. With the promise of increased speed, companies can be better prepared to plan and pivot supply chain operations as quickly as the market evolves. As we look to launch supply chain assistants utilizing generative AI technologies, we will transform the user experience with guided decision making and process automation, taking our solutions to the next level," said Duncan Angove, CEO, Blue Yonder.
Customer Highlights:
Learn how Blue Yonder's customers are persisting during times of disruption to digitally transform their supply chains and reimagine the consumer experience:
More From Blue Yonder:
Supply chain's premier event, Blue Yonder ICON, is crossing the pond and will take place in London, Oct. 11-13, 2023. Details coming soon to blueyonder.com/icon; in the interim, check out the page for video replays and highlights from the U.S.-based ICON held May 2023.
Blue Yonder was named a winner of the Global Retail & Consumer Goods Partner of the Year Award and a finalist of the Global Independent Software Vendor (ISV) 2023 Microsoft Partner of the Year Award. The company was honored among a global field of top Microsoft partners for demonstrating excellence in innovation and implementation of customer solutions based on Microsoft technology.
Blue Yonder announced a new multiyear extension of the partnership with Jon Rahm, one of the world's top-ranked golf super stars. Rahm will continue serving as Blue Yonder's brand ambassador and wearing the brand's logo on his golf shirt during all competitive events. Rahm will champion the pursuit of excellence on behalf of Blue Yonder through joint marketing campaigns and promotions.
Technology Industry Analyst Recognitions:

ARC Research GXO Direct to Rely on Machine Learning to Drive Labor Efficiencies

Berg Insights The Transport Management Systems Market

Forrester Edge Computing Solutions Transform the Supply Chain with Michele Pelino

Gartner® Market Guide for Intelligent Virtual Store Design Applications

Gartner® Market Share: All Software Markets, Worldwide, 2022

Gartner® Market Share: Enterprise Application Software, Worldwide, 2022

Gartner® Market Share: Supply Chain Management Software, Worldwide, 2022

Gartner® Supply Chain Executive Report: Drive Growth & Elevate Experiences with Digital Twin of the Customer

Gartner® Magic Quadrant & Critical Capabilities Real-Time Transportation Visibility

IDC Market Glance: Future of Work – Space/Place, 2Q23

IDC Worldwide Price Optimization and Management Application Software Forecast, 2023-2027

IDC Worldwide Software Taxonomy, 2023
About Blue Yonder
Blue Yonder is the world leader in digital supply chain transformations and omni-channel commerce fulfillment. Our end-to-end, cognitive business platform enables retailers, manufacturers and logistics providers to best fulfill customer demand from planning through delivery. With Blue Yonder, you'll unify your data, supply chain and retail commerce operations to unlock new business opportunities and drive automation, control and orchestration to enable more profitable, sustainable business decisions. Blue Yonder – Fulfill your PotentialTM  blueyonder.com
"Blue Yonder" is a trademark or registered trademark of Blue Yonder Group, Inc. Any trade, product or service name referenced in this document using the name "Blue Yonder" is a trademark and/or property of Blue Yonder Group, Inc. All other company and product names may be trademarks, registered trademarks or service marks of the companies with which they are associated.
###
In The News
Analyst Reports