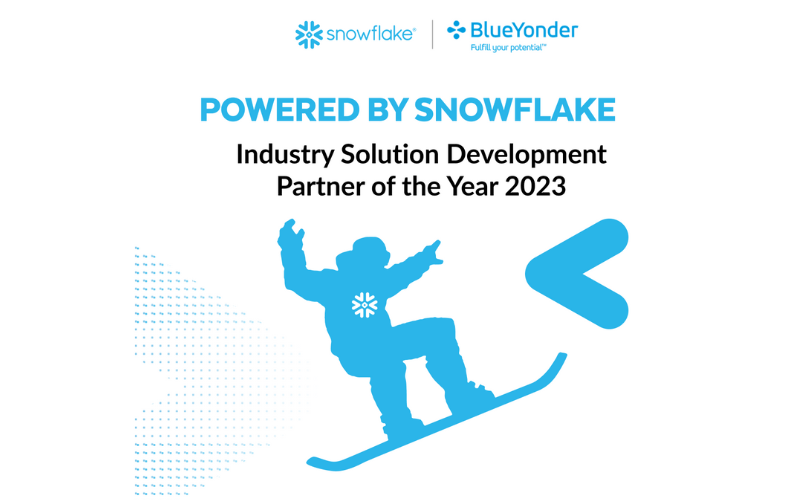 Blue Yonder announced at Snowflake's annual user conference, Snowflake Summit 2023, that it has been named the Powered by Snowflake Industry Solution Development Partner of the Year Award winner by Snowflake, the Data Cloud company.
Blue Yonder was recognized for the company's achievements as part of the Snowflake Data Cloud, helping joint customers unify data across internal and external sources and deliver scalability to power the simultaneous execution of hundreds of supply chain scenarios. Snowflake and Blue Yonder announced their partnership last year, which allowed Blue Yonder to integrate Snowflake's data capabilities into its Luminate® Platform, Powered by Snowflake, enabling end-to-end supply chain solutions. Blue Yonder was the first supply chain software company to build an enterprise solution for the Supply Chain Management domain.
During its recent annual customer conference ICON 2023, Blue Yonder shared its intent to extend Snowflake's capability to support its unique supply chain data workloads, including bringing together workloads across the Execution and Planning domains.
"As a key participant in both the Manufacturing Data Cloud and the Retail Data Cloud launches, we are the first major supply chain provider with the intent to fully leverage Snowflake. This showcases to our customers that we are committed to creating the end-to-end supply chain platform to ensure their data is not siloed so they can overcome disruptions quickly and meet their consumer expectations," said Chris Burchett, Senior Vice President, Product Development, Blue Yonder.
"We are excited to announce Blue Yonder as Snowflake's Powered by Snowflake Industry Solution Development Partner of the Year," said Scott Schilling, Senior Director of Global Partner Development at Snowflake. "Blue Yonder's Luminate Platform, Powered by Snowflake, delivers deep value to the Snowflake ecosystem and we look forward to continuing to build upon our partnership to further empower joint customers in the manufacturing and retail industries."
Learn more about Blue Yonder's Luminate Platform. Be sure to check out the Snowflake Summit 2023 keynotes live or on-demand here and stay on top of the latest news and announcements from Snowflake on LinkedIn and Twitter.
In The News
Analyst Reports