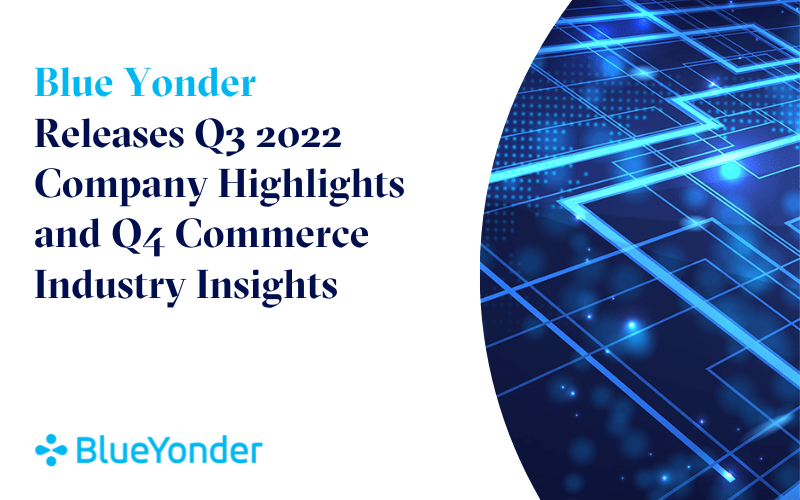 Early shopping, inflation, and returns among top trends Blue Yonder is monitoring heading into Q4 and the 2022 holiday season
SCOTTSDALE, Ariz. – Nov. 1, 2022 – Blue Yonder Holding, Inc. (Blue Yonder), a leading digital supply chain and omni-channel commerce fulfillment provider, today released its Q3 2022 Company Highlights and perspective on the commerce trends that matter most heading into Q4.
Quarterly Company Highlights
In Q3 2022, Blue Yonder showed significant progress in several areas of its business, including:
Added 47 new customer logos. Some of the customers who selected or extended their footprint with Blue Yonder during the quarter include:

Americas: ABB, Echo Global Logistics, Giant Eagle, GXO Direct, Hearthside Foods Solutions

APAC/EMEA: A-SAFE, Bleckmann, Delamode International Logistics,Knauf, NOVOSENSE Microelectronics,Pick N Pay, Pricecheck, Robert Lee Distribution Ltd, RS Components, SICK AG
Listed as a Leader in six key analyst reports from IDC, Nucleus Research and Quadrant Knowledge Solutions (full list below).
On the ESG front, since January 2022, Blue Yonder has recycled a total of 149,101 pounds of electronics, keeping them out of the landfill. This has resulted in 207,830 pounds of greenhouse gasses reduced; 23,720 gallons of saved water; and 4,287 pounds of toxic metals diverted.
Holiday Season a Priority for Retailers
As the holidays approach, retailers are focused on excess inventory, inflation, early shopping, and what role the store will play this year. Based on conversations with Blue Yonder's customers and the company's own research, the following commerce trends emerged as high priority for Q4:
Early Holiday Season Shopping: A recent survey by Blue Yonder explored the October Amazon Prime Early Access sale, confirming that the holiday season is in fact underway and that many shoppers will seek out the best deals to maximize their savings where possible.
Returns Fees: The era of free returns may be coming to an end as many retailers are expected to either charge a fee or raise prices on their products to make up the cost of returns. As returns typically rise during the holidays, retailers are investing in technology to minimize the impact on consumers and exploring ways to prevent returns in the first place.
Customer Loyalty: Customers are thinking differently about their loyalty to brands, especially as they experience stockouts and shipping delays. Retailers can achieve loyalty by having the right localized assortment. In addition, in today's new normal, retailers now more than ever need the ability to make and keep promises. This means giving customers options to how they can obtain the item, providing visibility into the order status, and meeting their commitments to the customer.  
Omni Profitability: In order to keep up with the latest customer expectations for fast and free delivery, retailers need to consider a multitude of cost factors, such as labor and shipping, to make the most profitable omni decision, especially as inflation has raised the fulfillment costs. At the same time, retailers need to balance sourcing store inventory that is best for both omni and walk-in customers, so neither is disappointed.
As retailers navigate this busy and challenging season, Blue Yonder's Luminate® Commerce Order Management (OMS) microservices can offer inventory visibility at the most granular level, accurate promises for delivery or pick-up, profitable order sourcing, and orchestration, powered by AI/ML capabilities, such as dynamic safety stock, to balance the needs of both the store and online shopper. The OMS microservice store fulfillment solution helps retailers adapt to the latest customer trends around returning to in-store shopping, bringing the online digital experience to the store to drive higher customer satisfaction with omni-channel orders; this results in increased store traffic, higher sales, and satisfied customers. In addition, the OMS microservices empower retailers with the real-time data and intelligent insights they need to instantly pivot, adapt, and refocus their strategies to align with customer expectations not just during the holiday season, but all year long.
"Our recent research reveals that consumers are planning to start their holiday shopping earlier this year, but this isn't new and has been the trend in recent years. What's different this year is that smart retailers are anticipating it to better predict demand, manage excess inventory and deliver an excellent customer experience," said Duncan Angove, CEO, Blue Yonder. "Blue Yonder is prepared to help its customers get through today's challenges so they can ensure their consumers have the products they need to be delighted – especially this holiday season."
Additional Resources:
Learn how Blue Yonder's customers are persisting during times of disruption to digitally transform their supply chains and reimagine the consumer experience:
About Blue Yonder
Blue Yonder is the world leader in digital supply chain transformations and omni-channel commerce fulfillment. Our end-to-end, cognitive business platform enables retailers, manufacturers and logistics providers to best fulfill customer demand from planning through delivery. With Blue Yonder, you'll unify your data, supply chain and retail commerce operations to unlock new business opportunities and drive automation, control and orchestration to enable more profitable, sustainable business decisions. Blue Yonder – Fulfill your PotentialTM blueyonder.com
"Blue Yonder" is a trademark or registered trademark of Blue Yonder Group, Inc. Any trade, product or service name referenced in this document using the name "Blue Yonder" is a trademark and/or property of Blue Yonder Group, Inc. All other company and product names may be trademarks, registered trademarks or service marks of the companies with which they are associated.
###
In The News
Analyst Reports