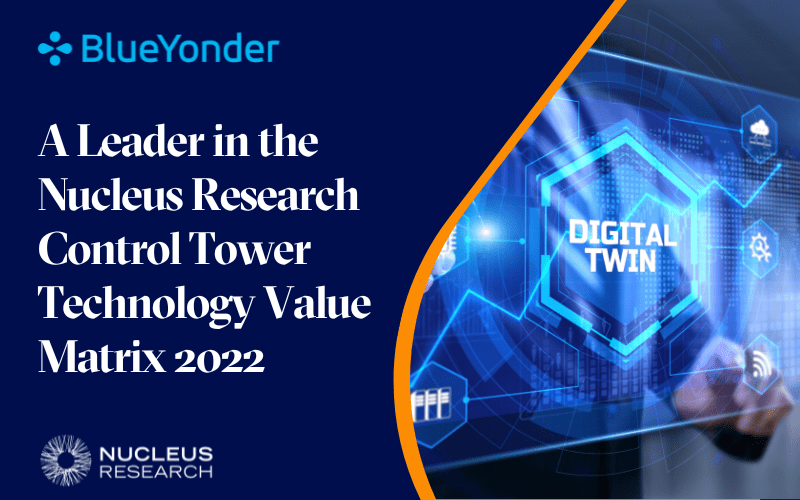 Leadership ranking is attributed to Blue Yonder's ability to provide a supply chain digital twin, prescriptive insights and automated resolutions
SCOTTSDALE, Ariz. – Sept. 28, 2022 – Blue Yonder, a leading digital supply chain and omni-channel commerce fulfillment provider, is positioned as a Leader in the recently released Nucleus Research Control Tower Technology Value Matrix 2022 based on the capabilities of its Luminate® Control Tower solution.
Blue Yonder was one of six vendors named a Leader in the report. The report cites Luminate Control Tower's ability to enable logical extensions to both planning and execution, while spanning and orchestrating all parties across extended business processes.
"From a control tower perspective, customers often choose Blue Yonder for its collaboration features that allow users to share views and comments on specific transactions with internal and external stakeholders, improving collaboration, decision making, and exception management," said Isaac Gould, research manager, Nucleus Research.
"Our digital twin infrastructure, microservices orientation, and cognitive-based resolutions, as well as our risk and resiliency capabilities, puts our Luminate Control Tower squarely at the right place, at the right time to help manage through what is top of mind for an enterprise's C-level supply chain concerns. Today, control towers need ML-based insights and AI-driven decision making to increase supply chain efficiencies and decrease manual processes," said Michelle Brunak, corporate vice president, Luminate Control Tower, Blue Yonder.
Blue Yonder's Luminate Control Tower is a next-gen SaaS solution powering end-to-end visibility of a customer's supply chain for faster, more accurate, and more informed decision-making. It offers insights to see, understand, act and learn on real-time information from the entire digital ecosystem, including third-party data sources. Machine learning (ML) empowers prescriptive resolutions to supply chain challenges, taking prioritization and impact analysis into account. It is solution-agnostic, providing visibility across functions and trading partners, enabling collaboration,
ML-empowered resolution capabilities and the ability to execute actions across the enterprise.
For this Value Matrix, Nucleus evaluated 14 supply chain planning vendors based on their delivery of value to customers through the usability and functionality of their software. Only six vendors, including Blue Yonder, were named as a Leader in the matrix.
Additional Resources:
About Blue Yonder
Blue Yonder is the world leader in digital supply chain transformations and omni-channel commerce fulfillment. Our end-to-end, cognitive business platform enables retailers, manufacturers and logistics providers to best fulfill customer demand from planning through delivery. With Blue Yonder, you'll unify your data, supply chain and retail commerce operations to unlock new business opportunities and drive automation, control and orchestration to enable more profitable, sustainable business decisions. Blue Yonder – Fulfill your Potential™ blueyonder.com
"Blue Yonder" is a trademark or registered trademark of Blue Yonder Group, Inc. Any trade, product or service name referenced in this document using the name "Blue Yonder" is a trademark and/or property of Blue Yonder Group, Inc. All other company and product names may be trademarks, registered trademarks or service marks of the companies with which they are associated.
###
In The News
Analyst Reports