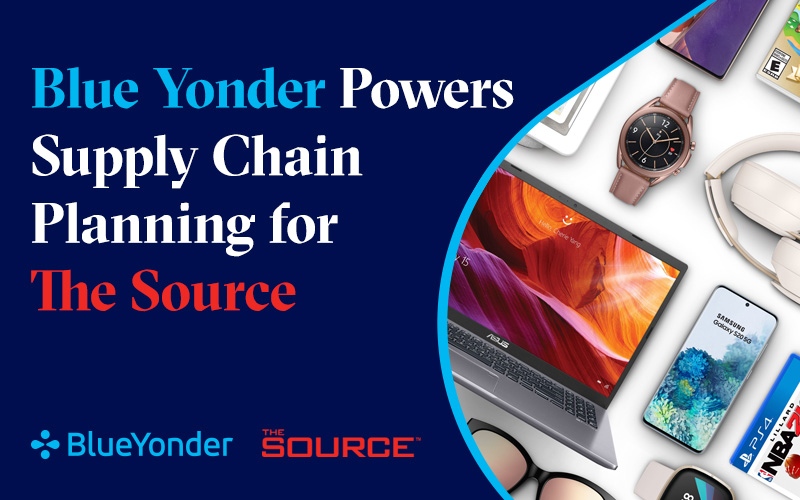 Blue Yonder's AI/ML capabilities provides Canadian tech retailer data-driven insights and accurate demand forecasting
BARRIE, Ontario and SCOTTSDALE, Ariz. – Sept. 13, 2021 – Blue Yonder, a leader in digital supply chain and omni-channel commerce fulfillment, recently completed an implementation of its SaaS-based demand planning solution for The Source, Canada's largest tech retailer.
Retailers are continually optimizing their operations to better serve their stores and customers. That's why The Source, with e-commerce presence and over 300 stores across Canada, turned to Blue Yonder to help evolve its operations to strengthen the efficiency of its business.
Consumer electronics retailers offer a range of products in-stores and online, including low frequency electronics, such as TVs; hot, in-demand offerings, such as video game consoles; and fast-moving conveniences, such as chargers. As a result, forecasting demand for this range of product is often challenging. Thanks to Blue Yonder's artificial intelligence (AI) and machine learning (ML) capabilities, The Source can now utilize data-driven forecasting to better plan for current and future demand of these products.
Blue Yonder's solution has allowed The Source to:
Increase automation in its forecasting process with AI and ML.
Reduce unproductive inventory in its stores and distribution centers.
Improve promotional sales in its stores.
"Planning for and forecasting demand can be challenging in the consumer electronics sector, so we are excited by the results we have seen thanks to Blue Yonder's solution. The implementation team worked diligently to gather quality data inputs, which resulted in the delivery of a new forecasting process that allows us to better service our customers, while profitably managing our business, both in stores and online," said Andaleeb Dobson, vice president, Merchandising & Supply Chain, The Source.
Powered by Microsoft Azure and part of Luminate™ Planning portfolio, the demand planning solution utilizes AI and ML capabilities, allowing The Source to incorporate hundreds of variables that drive demand and in turn achieve a single, unbiased demand forecast that highlights calculated business risk and impact. The Source can then evaluate scenarios and leverage prescriptive recommendations to enable more accurate decisions; from staging the right inventory through the distribution network to minimizing stock-outs while maximizing inventory tuns.
"This was the first implementation of our demand planning solution with a consumer electronics retailer and we are proud of the results it has produced for The Source. It shows the power of AI and ML to help companies digitally transform their supply chain planning and demand forecasting to meet changing consumer demands," said Terry Turner, president, Americas, Blue Yonder.
Additional Resources:
About The Source
The Source is Canada's largest tech retailer, with over 300 locations nationwide and online presence at thesource.ca. We help customers discover great tech for all their needs, including smartphones, smart home, headphones, home entertainment, home office and audio products. For more information, visit thesource.ca or email media@thesource.ca.
About Blue Yonder
Blue Yonder is the world leader in digital supply chain and omni-channel commerce fulfillment. Our intelligent, end-to-end platform enables retailers, manufacturers and logistics providers to seamlessly predict, pivot and fulfill customer demand. With Blue Yonder, you can make more automated, profitable business decisions that deliver greater growth and re-imagined customer experiences. Blue Yonder – Fulfill your PotentialTM  blueyonder.com
"Blue Yonder" is a trademark or registered trademark of Blue Yonder Group, Inc. Any trade, product or service name referenced in this document using the name "Blue Yonder" is a trademark and/or property of Blue Yonder Group, Inc. All other company and product names may be trademarks, registered trademarks or service marks of the companies with which they are associated.
###
In The News
Analyst Reports