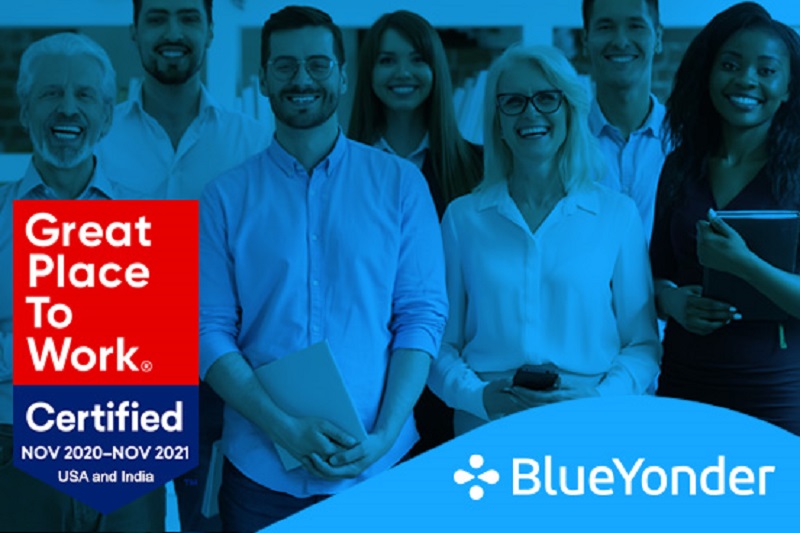 Company now recognized as a Great Place to Work CertifiedTM in the U.S. and India for 2020-2021, adding to its employer-based recognitions
SCOTTSDALE, Ariz. – Dec. 21, 2020 – Blue Yonder®, a world leader in digital supply chain and omni-channel commerce fulfillment, today announced that it has successfully achieved Great Place to Work CertificationTM in the U.S. and India for 2020-2021. Certification is a significant achievement for Blue Yonder – adding to its recognition as a Glassdoor Best Places to Work in 2020, a 2020 azcentral.com® Top Companies to Work for in Arizona and a 2020 Arizona's Most Admired Companies by Az Business magazine and BestCompaniesAZ – validating the company's strong workplace culture that is ingrained in its more than 5, 500 associates worldwide.
"We are thrilled to be Great Place to Work-Certified™ in both the U.S. and India. This recognition belongs to our associates, who are the heart of the company," said Nathalie Carruthers, chief associate success officer at Blue Yonder. "Throughout 2020, our associates have shown how resilient and empathetic they can be as they continue to support one another, show trust in the company and its leadership, drive productivity for the business, and deliver the best results for our customers – all while making Blue Yonder a great place to work."
Using validated associate feedback gathered with Great Place to Work's rigorous, data-driven For All methodology, Certification confirms companies have at least 7 out of 10 associates who consistently have a positive experience.
Based in the Sonoran Desert of Arizona with headquarters in Scottsdale, Blue Yonder and its associates embrace a 'Sonoran Spirit' based on the premise it must deliver customer value; foster its ecosystem of partners, customers and associates; and respectfully collaborate as a united front.
With a culture based on collaboration and respect, Blue Yonder is dedicated to promoting an inclusive atmosphere that fosters innovation, encourages creativity and supports personal and professional growth. At the heart of the company are its Core Values – Results, Relentless, Teamwork and Empathy – which unite and engage associates.
"We congratulate Blue Yonder on their Certification," said Sarah Lewis-Kulin, vice president of Best Workplace List Research at Great Place to Work. "Organizations that earn their employees' trust create great workplace cultures that deliver outstanding business results."
Great Place to Work® is the global authority on workplace culture, employee experience and the leadership behaviors proven to deliver market-leading revenue and increased innovation. Since 1992, they have surveyed more than 100 million employees around the world and used those deep insights to define what makes a great workplace: trust. Great Place to Work helps organizations quantify their culture and produce better business results by creating a high-trust work experience for all employees.
Blue Yonder is hiring and looking for candidates who emulate our Core Values. To find available career opportunities visit Careers.BlueYonder.com.
Additional Resources:
About Blue Yonder
Blue Yonder is the world leader in digital supply chain and omni-channel commerce fulfillment. Our intelligent, end-to-end platform enables retailers, manufacturers and logistics providers to seamlessly predict, pivot and fulfill customer demand. With Blue Yonder, you can make more automated, profitable business decisions that deliver greater growth and re-imagined customer experiences. Blue Yonder – Fulfill your PotentialTM  blueyonder.com
"Blue Yonder" is a trademark or registered trademark of Blue Yonder Group, Inc. Any trade, product or service name referenced in this document using the name "Blue Yonder" is a trademark and/or property of Blue Yonder Group, Inc.
Blue Yonder
15059 N. Scottsdale Road, Ste. 400
Scottsdale, AZ 85254
###
In The News
Analyst Reports