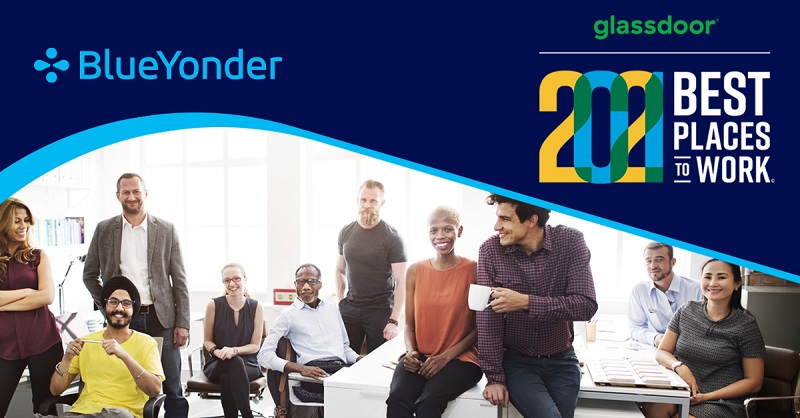 Arizona-based company a Glassdoor Employees' Choice Award Winner for second straight year
SCOTTSDALE, Ariz. – Jan. 13, 2021 – Blue Yonder® is #BYProud to announce that the company was honored for the second year in a row with a Glassdoor Employees' Choice Award, recognizing the Best Places to Work in 2021. The award showcases the company's unwavering commitment to its associates particularly during a year challenged by a pandemic that included a shift to a remote work environment.
The Employees' Choice Award, now in its 13th year, is based on the input of employees, who elect to provide anonymous feedback by completing a company review about their roles, work environment and employer on Glassdoor, the worldwide leader on insights about jobs and companies.
"Being named a Glassdoor Best Places to Work for the second year in a row is a tremendous honor and one that shows the resilience of our company culture – and our associates – even through a pandemic that challenged how we work," said Nathalie Carruthers, chief associate success officer at Blue Yonder. "In early 2020, before the COVID-19 pandemic, we introduced empathy as a new Core Value. Our associates took it to heart supporting one another and our customers throughout the pandemic – showcasing that our culture is what makes Blue Yonder such a great place to work."
Based in the Sonoran Desert of Arizona with headquarters in Scottsdale, Blue Yonder and its associates embrace a 'Sonoran Spirit' based on the premise it must deliver customer value; foster its ecosystem of partners, customers and associates; and respectfully collaborate as a united front.
With a culture based on collaboration and respect, Blue Yonder is dedicated to promoting an inclusive atmosphere that fosters innovation, encourages creativity and supports personal and professional growth. At the heart of the company are its Core Values – Results, Relentless, Teamwork and Empathy – which unite and engage associates. In addition, Diversity, Inclusion, Value and Equality (DIVE) is Blue Yonder's commitment to creating an inclusive and diverse environment where associates can grow and thrive with the freedom to be unique and authentic.
"COVID-19 is in the driver's seat and every employer has been impacted. This year's winning employers have proven, according to employees, that even during extraordinary times, they'll rise to the challenge to support their people," said Christian Sutherland-Wong, Glassdoor chief executive officer. "A mission-driven culture, transparent leadership and career opportunities are always hallmarks of Best Places to Work winners. This year, we also see exceptional employers who have prioritized the health, safety and well-being of their employees. My congratulations go to all of this year's outstanding Employees' Choice Award winners."
This award adds to Blue Yonder's recognition as a Great Place to Work CertifiedTM in the U.S. and India for 2020-2021, a 2020 azcentral.com® Top Companies to Work for in Arizona and a 2020 Arizona's Most Admired Companies by Az Business magazine and BestCompaniesAZ.
Glassdoor 2021 Best Places to Work
On Glassdoor, current and former employees voluntarily and anonymously share insights and opinions about their work environments by sharing a company review, designed to capture a genuine and authentic inside look at what a specific job may be like at a particular company. When sharing a company review on Glassdoor, employees are asked to rate their satisfaction with the company overall, and key workplace factors like career opportunities, compensation and benefits, culture and values, senior management and work/life balance. In addition, employees are asked to describe the best reasons to work at their companies as well as any downsides.
Glassdoor's Best Places to Work were determined using company reviews shared by U.S.-based employees between Oct. 22, 2019, and Oct. 19, 2020. During the year-long eligibility period, employers considered for the large list must have received at least 75 ratings for each of the eight workplace attributes (overall company rating, career opportunities, compensation and benefits, culture and values, senior management, work-life balance, recommend to a friend and six-month business outlook) taken into account as part of the awards algorithm. The final list is compiled using Glassdoor's proprietary algorithm, led by its Economic Research Team, and takes into account quantity, quality and consistency of reviews.
See the complete list of the Glassdoor 2021 Best Places to Work winners.
Additional Resources:
About Blue Yonder
Blue Yonder is the world leader in digital supply chain and omni-channel commerce fulfillment. Our intelligent, end-to-end platform enables retailers, manufacturers and logistics providers to seamlessly predict, pivot and fulfill customer demand. With Blue Yonder, you can make more automated, profitable business decisions that deliver greater growth and re-imagined customer experiences. Blue Yonder – Fulfill your PotentialTM blueyonder.com
"Blue Yonder" is a trademark or registered trademark of Blue Yonder Group, Inc. Any trade, product or service name referenced in this document using the name "Blue Yonder" is a trademark and/or property of Blue Yonder Group, Inc.
Blue Yonder
15059 N. Scottsdale Road, Ste. 400
Scottsdale, AZ 85254
###