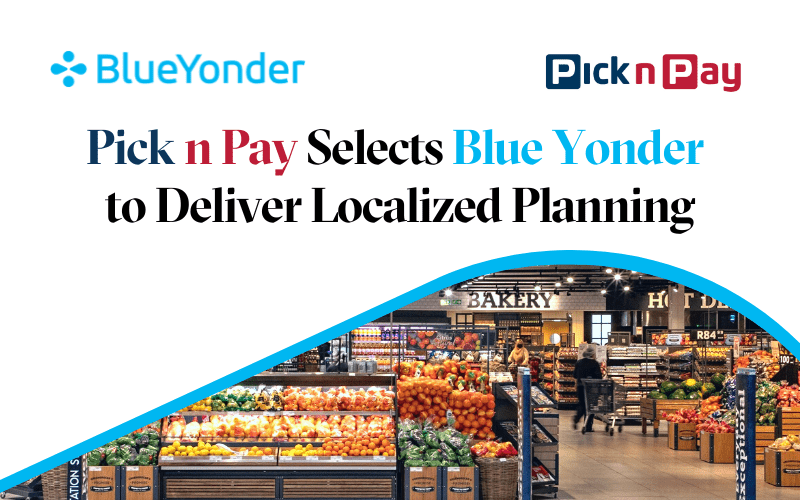 South African retailer will digitally transform its space and floor planning and allocation management to improve the in-store customer experience, grow its store strategy, and support omni-channel demands
CAPE TOWN, South Africa, and SCOTTSDALE, Ariz. – Jan. 17, 2023 – A rapid shift in customer shopping preference and consumption patterns have resulted in high volatility in demand, making planning for the best assortment and inventory levels both more challenging and important than ever for retailers. That's why Pick n Pay Group, a leading retail business in the fast-moving consumer goods industry, has chosen to digitally transform its inventory, ranging and space planning capabilities with Blue Yonder. Pick n Pay will implement Blue Yonder's SaaS-based category management solution for grocery business, and allocation and assortment management solutions for its clothing business.
The Pick n Pay Group is a multi-format and multi-channel retailer with a flexible and diverse portfolio of over 2,000 stores located throughout Africa, operating on an owned and franchise basis. The company operates Pick n Pay supermarkets, Boxer and Pick n Pay Clothing, as well as being part owner of TM Supermarkets. Pick n Pay provides a wide range of food and groceries, general merchandise and value-added services, while Pick n Pay Clothing provides a targeted range of clothing. The company also has a significant omni-channel presence. As part of its Ekuseni strategic plan, the company is looking to accelerate growth in key strategic areas, including delivering a refined customer value proposition.
To support this initiative, Pick n Pay needs to upgrade its capabilities from manual processes so it turned to its current supply chain solutions provider Blue Yonder.
With Blue Yonder, Pick n Pay Clothing will be able to:
Transform its existing merchandise financial planning, assortment and allocation processes to standardized industry best-practice through a connected end-to-end process to deliver the right localized assortment.
Enable improved planner and allocator efficiency using automated and data-driven capabilities to ensure the right level of inventory in their stores and improve key KPIs, such as reduced stock-outs and seasonal markdowns.
Optimize customer-centric store assortments and align with optimized space to deliver the best in-store presentation for each location and improve the customer shopping experience.
And Pick n Pay supermarkets will be able to:
Make faster, more accurate and localized space allocation decisions to help its customers find the products they need more easily, while guaranteeing a better shopping and service experience.
Offer two customer-facing brands with product ranges tailored to meet the specific needs of its customers.
"As we look to expand our business through new stand-alone Pick n Pay Clothing stores, adding new SKUs, and a growing online offering, we need to transform our existing merchandise financial planning, assortment and allocation processes. As a leader in space and floor planning, we knew Blue Yonder was the right supply chain solutions provider to meet our needs. Blue Yonder's solutions will allow us to bring the latest digital technology in-house to optimize supply and distribution planning processes to help grow our business and meet the goals set out in our Ekuseni strategic plan," said Mark Tudor, chief information officer, Pick n Pay Group.
Built on Microsoft Azure, Blue Yonder's solutions will allow Pick n Pay to utilize the latest digital technology and AI/ML algorithms, gaining insights into customer needs and preferences and allowing the company to tackle challenges by being more responsive and resilient to disruptions while minimizing manual guess work and human errors.
"Global Supply chain disruptions have brought new challenges in servicing customer needs in traditional channels while retaining revenue and margin targets. Having the right space and floor planning strategy will not only help Pick n Pay optimize its grocery stores but also pivot as customer preference and demand changes. On the clothing side, Pick n Pay will see early value realization thanks to the solutions' agile deployment, allowing them to fuel their growth strategy," said Gael Ramaen, corporate vice president, Retail – EMEA, Blue Yonder.
Additional Resources:
About Pick n Pay
Pick n Pay is a leading retail business in the fast-moving consumer goods industry on the African continent that believes doing good is good business. Pick n Pay operates through multiple store formats under three brands – Pick n Pay, Pick n Pay QualiSave and Boxer – and we have the largest online grocery business in Africa.
We procure quality products at the best available prices. By operating a lean and efficient business, supported by a strong and talented team, we are able to provide our customers with a tailored range of high-quality food, grocery and general merchandise products at competitive prices.
Through ongoing investment in the customer offer, we are able to drive sales and grow value for all our stakeholders.
About Blue Yonder
Blue Yonder is the world leader in digital supply chain transformations and omni-channel commerce fulfillment. Our end-to-end, cognitive business platform enables retailers, manufacturers and logistics providers to best fulfill customer demand from planning through delivery. With Blue Yonder, you'll unify your data, supply chain and retail commerce operations to unlock new business opportunities and drive automation, control and orchestration to enable more profitable, sustainable business decisions. Blue Yonder – Fulfill your Potential™ blueyonder.com
"Blue Yonder" is a trademark or registered trademark of Blue Yonder Group, Inc. Any trade, product or service name referenced in this document using the name "Blue Yonder" is a trademark and/or property of Blue Yonder Group, Inc. All other company and product names may be trademarks, registered trademarks or service marks of the companies with which they are associated.
###
In The News
Analyst Reports