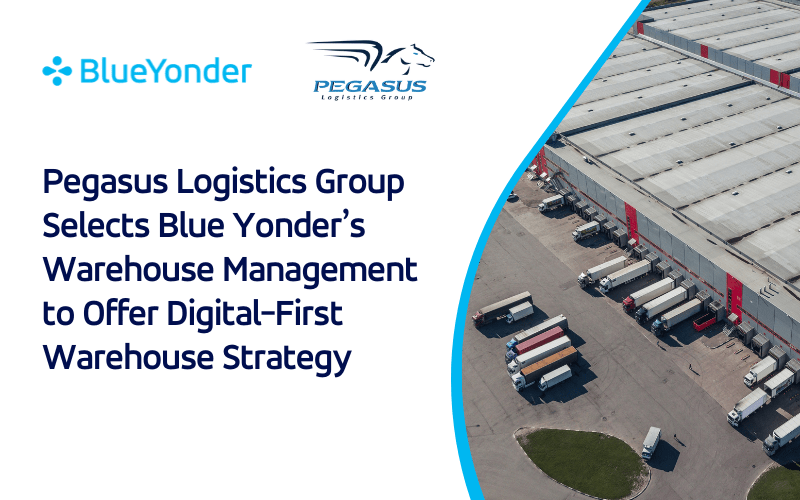 North American freight forwarder looks to grow its operations and enhance its capabilities with Blue Yonder's WMS
DALLAS and SCOTTSDALE, Ariz. – May 4, 2023 – As customer needs change, third-party logistics (3PL) providers must modernize their warehousing capabilities. That's why Pegasus Logistics Group, one of the largest privately held freight forwarders in the U.S., has chosen to build a digital-first strategy for its warehouse operations by selecting Blue Yonder's SaaS-based Warehouse Management System (WMS).
Pegasus Logistics specializes in handling those parts of the supply chain that carry extraordinary challenges, including time-definite shipping, project-intensive logistics, managed delivery, and final-mile customization. A global freight forwarder and warehouse provider, Pegasus Logistics is expanding its contract logistics business to provide clients a complete range of services from warehouse storage and cross docking to more intricate and complex needs as part of their overall supply chain solution. With new facilities planned to open this year in North America serving multiple verticals including Technology, Healthcare, Retail, Industrial, and Consumer Goods, Pegasus Logistics was looking for a warehousing solution to meet those needs, so it turned to Blue Yonder.
With Blue Yonder's WMS, Pegasus Logistics will be able to:
Manage customer inventory across warehouses to directly impact operational costs and improve the delivery process to ensure on-time arrival.
Improve customers end-to-end supply chain to support its current and future growth with the ability to scale operations as needed, as well as be prepared for future market challenges.
Leverage a vast API library to further develop innovative solutions, gain competitive edges, and drive unique business processes.
"Pegasus Logistics Group's selection of the Blue Yonder's supply chain cloud platform was an easy decision that delivers value from day one. It's a perfect fit to combine Pegasus' best-in-class white glove services with Blue Yonder's industry-leading software solutions. The Pegasus implementation of Blue Yonder's cloud-enabled Warehouse Management System provides speed-to-market that delivers turnkey, feature-rich solutions for our clients and internal stakeholders," said Marc Sherman, CIO, Pegasus.
Pegasus Logistics will deploy Blue Yonder's WMS to fully digitalize its new warehouses and gain market-leading inbound and outbound visibility into shipments, as well as optimize operations and resource planning to ensure business velocity, operational excellence, efficiency, and compliance.
"It's exciting for us to be working with Pegasus Logistics as they expand their service offerings and are trusting us to help them with their digital-first journey. Our industry-leading Blue Yonder WMS will help them not only optimize their processing and storage at their new warehouses but gain visibility and improve customer service. We look forward to expanding on this journey with them with future solutions," said Mark Nordick, senior vice president and general manager, Global Third-Party Logistics, Blue Yonder.
Additional Resources:
About Pegasus Logistics Group
Founded in 1994, Pegasus Logistics Group has worked tirelessly to serve clients with excellence, take care of team members, and make a difference in the community. Pegasus specializes in handling those parts of the supply chain that carry extraordinary issues including time-definite shipping, project-intensive logistics, managed delivery, and final-mile customization. Pegasus continues to experience unparalleled growth and is one of the more admired companies in the market. It is a Certified Great Place to Work® and is regularly recognized by the Dallas Business Journal's Middle Market 50 which ranks the fastest-growing mid-market companies.
About Blue Yonder
Blue Yonder is the world leader in digital supply chain transformations and omni-channel commerce fulfillment. Our end-to-end, cognitive business platform enables retailers, manufacturers and logistics providers to best fulfill customer demand from planning through delivery. With Blue Yonder, you'll unify your data, supply chain and retail commerce operations to unlock new business opportunities and drive automation, control and orchestration to enable more profitable, sustainable business decisions. Blue Yonder – Fulfill your Potential™ blueyonder.com
"Blue Yonder" is a trademark or registered trademark of Blue Yonder Group, Inc. Any trade, product or service name referenced in this document using the name "Blue Yonder" is a trademark and/or property of Blue Yonder Group, Inc. All other company and product names may be trademarks, registered trademarks or service marks of the companies with which they are associated.
###
In The News
Analyst Reports