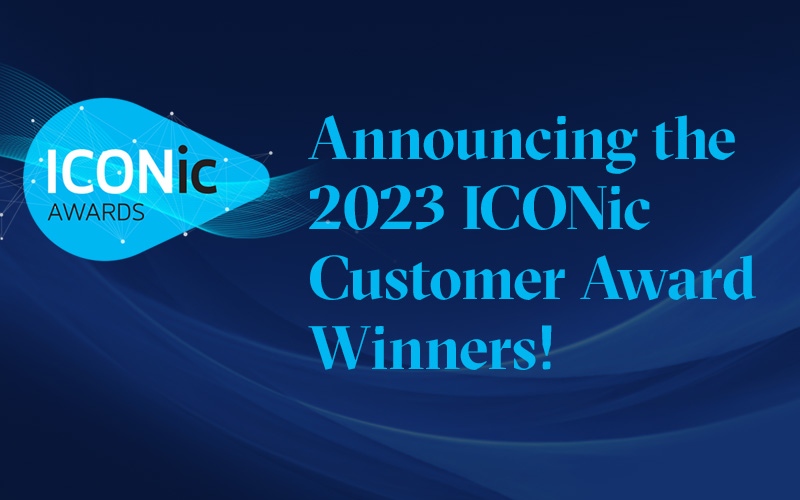 SCOTTSDALE, Ariz. – May 3, 2023 – Blue Yonder's customers are driving digital transformations for their supply chains to better not only themselves but the customers they serve. That's why Blue Yonder is proud to honor them with the inaugural ICONic Customer Awards, which were presented at the annual Blue Yonder ICON conference on May 3, 2023, in Las Vegas.
The ICONic Customer Awards celebrate organizations and individuals who are making a name for themselves by embracing innovation, challenging the status quo, and delivering great results. The awards acknowledge the success, impact, and results that they are driving. The awards are presented in six company-based categories and two individual awards.
"Blue Yonder's annual ICON conference inspires our customers to reimagine and transform their digital supply chains. One of the best parts of this conference every year is hearing the success stories of companies that have achieved their transformation vision – what was their challenge, how did they tackle it, and what were their lessons learned? This year, to honor our customers, we are proud to present the ICONic Customer Awards to eight companies and two individuals who have tackled their business challenges using Blue Yonder and come out on top," said Susan Beal, chief customer officer, Blue Yonder.
The winning companies for the 2023 ICONic Customer Awards are:
Connected Commerce Champion: Petco

This award honors digital leaders driving connected, customer-centric commerce experiences. The winning company is transforming its customer buying experience from browse to order to fulfillment – delivering faster speed and greater convenience to meet ever-changing customer needs and gain a competitive edge.

Retail Renaissance: Sainsbury's

This award celebrates retailers who have best leveraged Blue Yonder's solutions to drive the future of retail and meet the changing demands of their customers. The winning company has embraced the power of technology to transform its retail operations, resulting in improved efficiency, customer centricity, and profitability.

Supply Chain Planning Resiliency: Armada Supply Chain Solutions and Micron Technology, Inc.

This award recognizes companies who have demonstrated resiliency through digital planning to solve the hardest problems and uncover the most opportunity. Winners of this award have leveraged Blue Yonder's end-to-end solutions to predict and pivot its supply chain planning capabilities in order to deliver on its promise to partners, suppliers, and – ultimately – customers.

Execution Innovator: Bayer Crop Science

This award honors the best use of innovation and Blue Yonder technology to drive autonomous, sustainable, and predictive logistics solutions. The winning company is focused on next-generation ideas that transform the future of how it is optimizing the flow of goods around the globe and reacting to real-time changes in the most efficient manner across first, middle and last mile.

Sustainability: CP Foods

This award recognizes customers who are leading the charge towards a more sustainable future. The winning company has woven sustainability into its operations using Blue Yonder's solutions to drive sustainable practices throughout its supply chain, resulting in reduced waste, improved energy efficiency, and a positive impact on the environment.

Digital Disruptor: Lenovo and Sunbelt Rentals

This award honors customers who are pushing boundaries and driving change across their organization. Using Blue Yonder's solutions, the winning customers have achieved end-to-end transformation and digital disruption. As a result, these companies drive quantifiable impact, challenge traditional norms, and create new and innovative ways of doing business that better meet the needs of their customers and business.
The winning individuals for the 2023 ICONic Customer Awards are:
Community Hero: Chris Harmon, Harris Teeter

This award honors a Blue Yonder customer who has positively engaged with Blue Yonder via the Special Interest Groups (SIGs), providing guidance to their peers on how to best utilize their solutions.

Leadership & Impact: Dinesh Vyas, Dole Packaged Foods LLC

This award recognizes visionary leaders that power supply chain transformations! It takes more than great software to achieve a company's goals – ultimately it is the shared purpose, passion, dedication, and collaboration of great humans that make transformation dreams a reality. The winner is someone who demonstrates exceptional leadership to drive material change in their organization leveraging Blue Yonder's solutions.
About Blue Yonder
Blue Yonder is the world leader in digital supply chain transformations and omni-channel commerce fulfillment. Our end-to-end, cognitive business platform enables retailers, manufacturers and logistics providers to best fulfill customer demand from planning through delivery. With Blue Yonder, you'll unify your data, supply chain and retail commerce operations to unlock new business opportunities and drive automation, control and orchestration to enable more profitable, sustainable business decisions. Blue Yonder – Fulfill your Potential™ blueyonder.com
"Blue Yonder" is a trademark or registered trademark of Blue Yonder Group, Inc. Any trade, product or service name referenced in this document using the name "Blue Yonder" is a trademark and/or property of Blue Yonder Group, Inc. All other company and product names may be trademarks, registered trademarks or service marks of the companies with which they are associated.
###
In The News
Analyst Reports