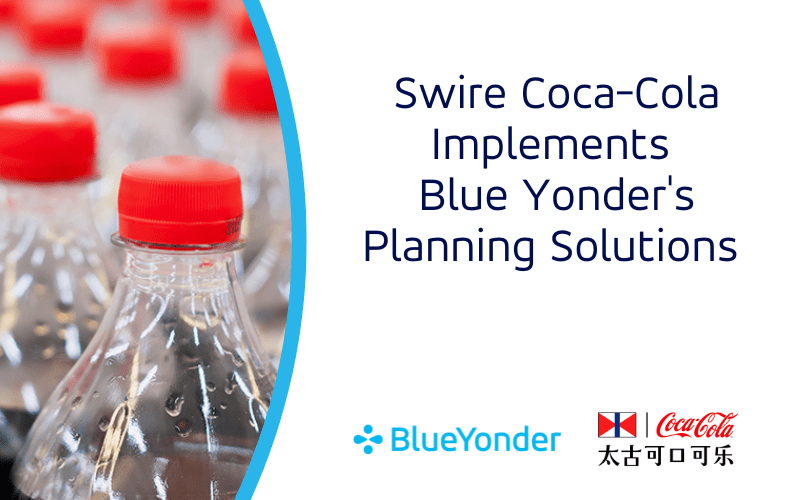 Managing and optimizing the flow of products from production to distribution is key to balancing demand and supply for companies in consumer industries. Blue Yonder's planning solutions helped its customer, Swire Coca-Cola, achieve end-to-end supply chain visibility and orchestration.
As a total beverage company, Swire Coca-Cola has a diversified product portfolio, with a franchise to manufacture, market and distribute products of The Coca-Cola Company in 12 provinces and cities in mainland China. The company now has 18 bottling plants and serves approximately 700 million customers. With Blue Yonder's solutions, Swire Coca-Cola upgraded its demand planning capabilities and extended its supply planning capabilities.
"With our business growth and increasing production complexity, we need an automated system to perform forecasting and production planning at much higher accuracies. Thanks to Blue Yonder's planning solutions, we have been able to improve our forecasting accuracy and reduce the number of changeovers and changeover times. This solution will play a key role in helping us meet our challenges as we continue to grow," said Zhao Guangxu, director, Supply Chain Planning, Swire.
Thanks to Blue Yonder, Swire Coca-Cola has:
Improved forecast and production planning accuracy by upgrading the forecasting system;
Upgraded to a daily forecast and production plan from weekly previously for quicker market responses;
Gained deeper visibility into both regional and distribution center stock levels for better inventory planning;
Reduced time required for scheduling by 76%, resulting in much faster response times and disruption handling;
Reduced changeover time and improved production efficiency significantly; and
Decreased number of changeovers by 5.2% year-over-year in 2022 as compared to 2021 with changeover time decreased by 6.0%, at its facility in Zhejiang, China.
In addition, Blue Yonder has helped Swire Coca-Cola to achieve higher planner productivity, better inventory management, and gain an improved understanding of demand drivers and customer behavior. Swire Coca-Cola can optimize production scheduling by simultaneously balancing customer service, cost and utilization while respecting complex manufacturing constraints and rules.
"We are excited to support Swire Coca-Cola in their supply chain transformation journey as they look to improve planning efficiency, including production planning and scheduling, with our Blue Yonder solutions. As their strategy evolves, we will be with them as they plan for future demand and supply to better their operations," said Antonio Boccalandro, president, APAC, Blue Yonder.
###
In The News
Analyst Reports