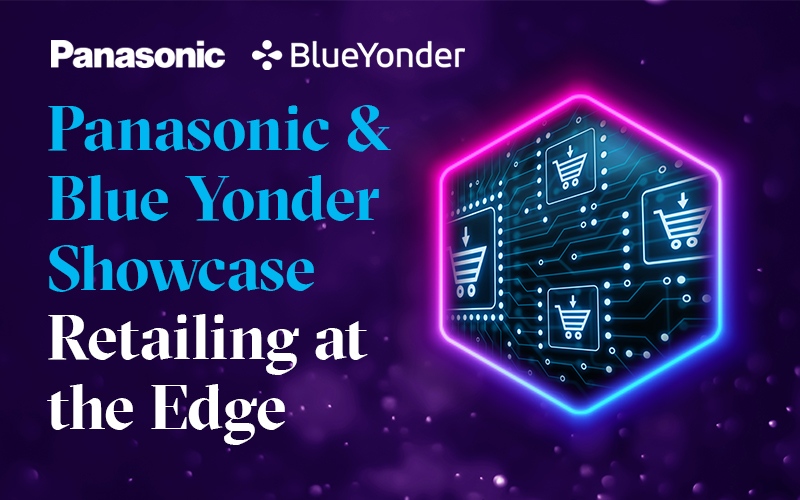 Retailers need real-time data and intelligent insights to quickly adapt and fulfill at accelerated speed, especially as consumer shopping habits continue to transform both online and in stores. At Retail Technology Show 2023 from 26 – 27 April in London, Panasonic Connect and Blue Yonder will continue to showcase their shared vision of the Connected Store and Supply Chain Powered Commerce – powering seamless global commerce through connected, customer-centric supply chains. The two companies first showcased this vision at EuroShop in February.
Visitors to the joint booth (#6G30) can expect a strong alliance of edge technologies, artificial intelligence/machine learning (AI/ML), and cloud applications driving sustainable digitalisation of commerce channels – whether online or in-stores – all over Europe. Booth visitors can test and try more than 10 live scenarios combining the latest hardware and software technologies.
"There are many complex shopper journeys – across all channels at any time – and retailers need to unify them to be successful. At Retail Technology Show, retailers can learn how Blue Yonder is helping our customers meet the evolving shopper needs by delivering seamless global commerce via connected commerce, curated products and optimised operations," said Gaël Ramaen, Corporate Vice President for Retail EMEA, Blue Yonder.
"In addition to software needs, retailers should be looking at Edge technologies to complement their commerce capabilities. Edge technologies benefit both the customers and frontline workers, making the in-store experience seamless. Whether for fresh food or buy-online-pickup-in-store lockers, Panasonic Connect's Edge technologies bring the right experience to the store and beyond," said Shawn Aoki, Chief Transformation Officer, Panasonic Connect Europe.
Smart, Connected Stores and Commerce Experiences
Panasonic Connect and Blue Yonder address the technological challenges facing the retail industry. This includes optimised in-store processes for creating and managing lifecycle pricing, cutting-edge Commerce and Order Management (OMS) microservice solutions, electronic shelf labels that benefit both the customer and frontline worker, and the latest in grocery order fulfilment including intelligent fresh locker systems.
Panasonic Connect and Blue Yonder will showcase their joint innovative capabilities at their Retail Technology Show booth with several live demos:
TOUGHBOOK: At the booth visitors can test the newest Panasonic Connect TOUGHBOOK models in combination with the listed demonstrations and value adding, customised accessories dedicated to make jobs of warehouse and retail store workforces easier. Rugged mobile computing devices (notebooks, tablets and handhelds) improve the productivity of professionals in demanding environments: TOUGHBOOK sets the industry standard for ruggedised devices that are customisable for the needs of your mobile workers. Proven to operate in extreme environments, so the weather, dirt, dust, and drops never become a problem for your mobile teams.
Electronic Shelf Labels in Combination with AI-supported Pricing: Booth visitors can see some of the newest applications for Panasonic Connect's electronic shelf labels and how retailers not only ensure price updates in a blink, but also connect to customers at the shelf. This ability also removes this mundane job off daily task list allowing frontline workers to focus on the customer and in-store experience. With offices all over Europe, Panasonic Connect is a leading installation and service partner for electronic shelf labels and will present its improved and extended service offering at the EuroShop 2023.
Determining the right price is key for retailers – especially in today's world of unpredictable demand, crushing speed of market changes and unmanageable amounts of data. Retailers need the ability to use automated insights to understand what factors influence customer demand, as well as how to use that data to determine their pricing strategies. Blue Yonder's Luminate Pricing Lifecycle, powered by AI/ML, understands the influencing factors and makes optimal pricing decisions across the product lifecycle.
Combined, electronic shelf labels and Blue Yonder's Luminate Pricing Lifecycle solution offers retailers offer the most appropriate price while making price changes easier for their frontline workers.
Commerce / OMS Microservice Solutions in Combination with Temperature-Sensitive Smart Lockers: Trying to resolve today's complex retail challenges is more difficult if retailers focus on siloed capabilities. Delivering a connected commerce experience from browse to fulfilment requires an optimised customer offer of localised assortment, cognitive inventory management and demand-aware pricing, delivered via an optimised operations network designed to lower the cost to serve. Blue Yonder's Commerce and Order Management (OMS) microservice solutions redefine how commerce happens – delivering meaningful customer experiences and removing lengthy upgrades and technical obstacles that get in the way of business transformation.
To match with the popular option of curbside pick-up, temperature-sensitive smart lockers are ideal for heated food deliveries or chilled and frozen groceries. These smart lockers are completely integrable as a pick & collect option to your commerce solution or app.
The demo will present how OMS microservice solutions and temperature-sensitive smart lockers work together for a better customer experience.
Be sure to visit Panasonic Connect and Blue Yonder at the Retail Technology Show in at booth #6G30 to learn more.
In The News
Analyst Reports