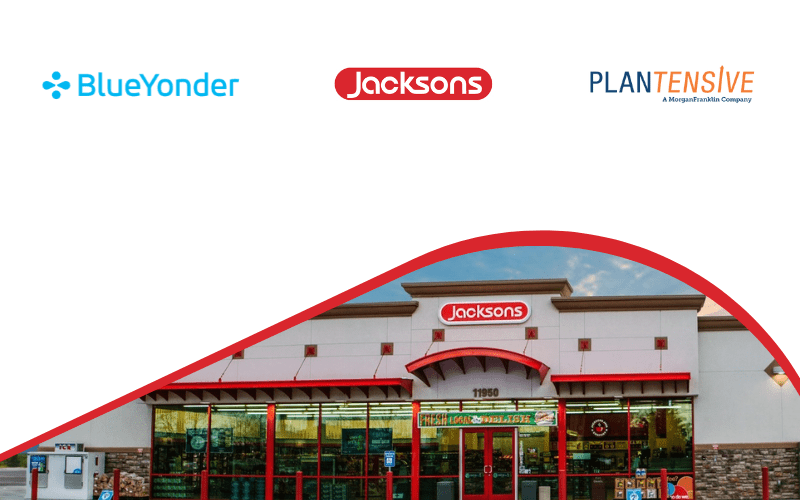 Leading convenience food store chain looks to improves assortment and space planning capabilities with Blue Yonder and Plantensive
MERIDIAN, Idaho and SCOTTSDALE, Ariz. – Sept. 12, 2023 – With rapidly changing consumer behavior, convenience store operators need to make faster decisions to attract and retain customers. That's why Jacksons Food Stores (Jacksons), a convenience food store chain, has selected to digitally transform its space management capabilities with Blue Yonder's category management SaaS solution. The project will be implemented by Plantensive, a Blue Yonder partner.
Jacksons is a U.S.-based, nationally recognized convenience food chain with more than 300+ Chevron-, Shell-, and Texaco-branded locations in seven Western states, as well as approximately 3,000 associates. Jacksons is a food-forward retailer focused on serving the everyday needs of their customers with best-in-class food products that are fast, simple and friendly, offering 5,000 SKUs per store. The company was looking to automate and improve its category management capabilities from manual processes, so it turned to the industry leader in category management, Blue Yonder.
Once implemented Blue Yonder's solution will allow Jacksons to:
Operate a modern, structured category management process, allowing Jacksons to move from strategy to execution much quicker leveraging advanced analytics capabilities.
Allocate space more strategically through data and analytics, improving the customer shopping experience by localizing assortment to a store level.
Provide each store with specific assortment and shelf placement to efficiently operate with a localized assortment to better serve its shoppers.
"We are focused on providing customers with the service, products, and convenience they need – when, where and how they want it. To continue doing this well in today's rapidly changing environment, we are looking forward to implementing Blue Yonder's category management solution alongside Plantensive. This solution will allow us to meet the needs of each of our stores, serving the unique needs of each of our communities," said Cory Jackson, president, Jacksons.
Blue Yonder's category management solution will allow Jacksons to optimize layouts across stores, increasing space productivity and reducing out-of-stocks – all to increase customer satisfaction. By leveraging SaaS, Jacksons will have unmatched scalability and reliability, as well as the ability to take advantage of new solution innovations as soon as they're available.
«We are excited to once again join forces with Blue Yonder for a transformative category management project. This collaboration will enable Jacksons in enhancing customer service through strategic allocation and assortment,» said Derek Cesarz, managing partner, Plantensive. «With Blue Yonder's leading position in the retail sector and our specialized expertise, we expect a significant positive impact from this implementation."
"Jacksons is viewed as an innovator in transforming food service within the convenience channel, so we are excited to be Jacksons' category management solution provider as they embark on their digital transformation journey. Jacksons needed a category management solution that could adjust as customer preference and localized demand changes. With Blue Yonder's category management solution, they can build and maintain store-specific planograms to drive more localized assortment and efficient execution, resulting in increased sales," said Vince Beacom, senior vice president, Retail, Blue Yonder.
Additional Resources:
About Jacksons Food Stores
Since John D. Jackson founded Jacksons in 1975 as a single service station, the family-owned company has grown to be a nationally recognized chain of 300+ company-operated convenience stores in Idaho, Nevada, Oregon, Washington, Arizona, California, and Utah under the Jacksons Food Stores and ExtraMile by Jacksons Convenience Store brands.
About Plantensive
Plantensive, a MorganFranklin company, is a supply chain and retail planning solutions provider to many of the Fortune 500 and mid-market companies across the consumer-packaged goods, distribution, manufacturing and retail industries. Plantensive provides end-to-end supply chain solutions and proven tools to accelerate value by building, implementing and optimizing dynamic, reliable supply chain solutions aligned with business strategies. For more information visit plantensive.com.
About Blue Yonder
Blue Yonder is the world leader in digital supply chain transformations and omni-channel commerce fulfillment. Our end-to-end, cognitive business platform enables retailers, manufacturers and logistics providers to best fulfill customer demand from planning through delivery. With Blue Yonder, you'll unify your data, supply chain and retail commerce operations to unlock new business opportunities and drive automation, control and orchestration to enable more profitable, sustainable business decisions. Blue Yonder – Fulfill your Potential™  blueyonder.com
"Blue Yonder" is a trademark or registered trademark of Blue Yonder Group, Inc. Any trade, product or service name referenced in this document using the name "Blue Yonder" is a trademark and/or property of Blue Yonder Group, Inc. All other company and product names may be trademarks, registered trademarks or service marks of the companies with which they are associated.
###
In The News
Analyst Reports