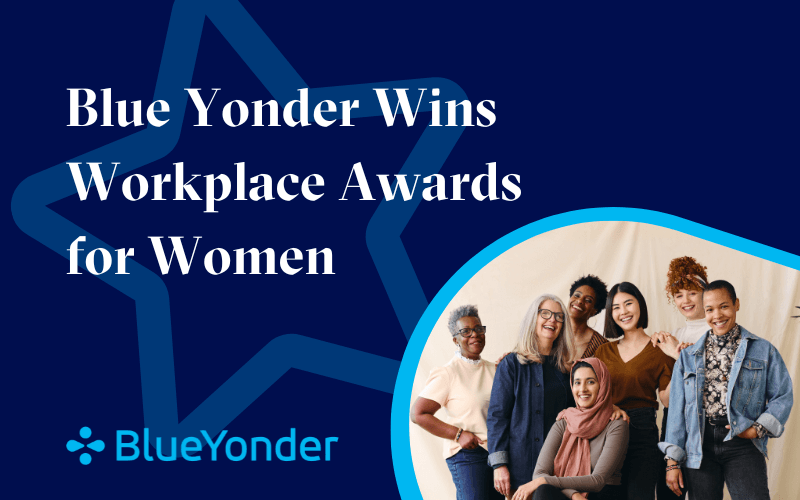 Company named in the Top 10 for "Best Places to Work™ for Women 2023" by of Great Place To Work® Mexico, the DivHERsity Awards 2023 in India by JobsForHer, and India's Best Workplaces™ for Women 2023 by Great Places to Work® India
Blue Yonder, a leader in digital supply chain and omni-channel commerce fulfillment, announced earlier this year that it was recognized with two awards focused on women in the workplace, and has recently won a third..
The company was previously honored by:
Great Place to Work® Mexico in the Top 10 for "Best Places to Work™ for Women 2023" – coming in at #6.
JobsForHer in India as one of the Top 20 Most Innovative Practices at the DivHERsity Awards 2023 in two categories – "Women Returnee Programs" and "Women Leadership Development."
And can now add the following award to its list of women-focused awards:
"These three awards showcase the outstanding efforts of our associates not only in Mexico and India – but also globally – to create an inclusive and diverse environment where our associates can thrive with the freedom to be unique and authentic. These kinds of recognition are a testament to our ongoing commitment to our Diversity, Inclusion, Value and Equity (DIVE) initiative, which includes our associate-driven resource groups like WIN (Women's Interest Network)," said Nathalie Caruthers, chief associate success officer, Blue Yonder. "We are especially proud to be listed on the 'Best Places to Work for Women' in Mexico. Given this is our first time on the list, it is such an achievement to have made it into the Top 10."
According to Great Place to Work® Mexico, winners were presented under five segmented categories according to the number of employees in the organization. To choose the Top 20 for each segment, the responses of women who rated their experience and the general index of trust based on relationships with their peers, leaders and the company in general were taken into account. See the complete list of the Best Places to Work for Women 2023 by Great Place To Work® Mexico here.
The DivHERsity Awards are one-of-a-kind gender diversity awards curated to recognize the exceptional work done by companies in India to accelerate female participation and performance in the workforce. These awards laud companies that are walking the talk and doing everything it takes to meet and surpass their diversity and inclusion goals, making the Indian workplace a women-friendly space.
This year for India, based on a rigorous evaluation methodology, 100 organizations were selected among India's Best Workplaces for Women 2023. These organizations among other practices particularly exceled both on people practices that they have crafted for their employees and proactively acting on the feedback to create a High Trust Culture. The report and the complete list is here.
To learn more about careers at Blue Yonder visit careers.blueyonder.com.
In The News
Analyst Reports