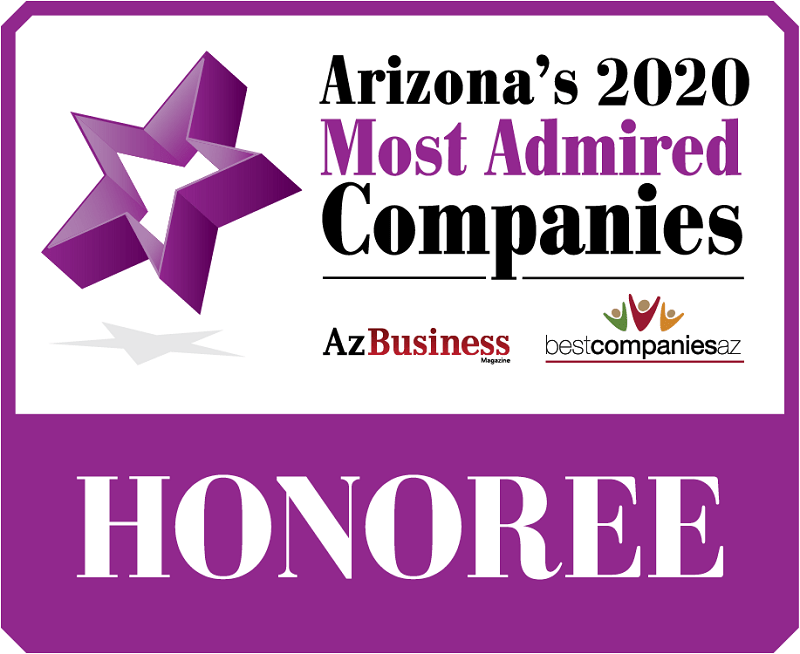 Blue Yonder has once again been named one of Arizona's Most Admired Companies by Az Business magazine and BestCompaniesAZ. This is the fifth year in a row the company has been recognized for excelling in five key areas: Leadership Excellence, Workplace Culture, Corporate and Social Responsibility, Customer Opinion, and Innovation.
The Arizona-based company actively encourages its associates to embrace a 'Sonoran Spirit' that is based on the premise it must deliver customer value; foster its ecosystem of partners, customers and associates; and respectfully collaborate as a united front. Much like the Sonoran Desert, Blue Yonder is made up of a diverse team with varied backgrounds shaping their connections to customers, partners and each other. Blue Yonder has 5,300 global associates and more than 350 Arizona-based associates.
"Blue Yonder's culture and core values are a big reason why we have been named one of Arizona's Most Admired Companies for the fifth year in a row," said Nathalie Carruthers, executive vice president, chief associate success officer, Blue Yonder. "Even during the COVID-19 pandemic, our associates have continued to showcase our Core Values, especially our newest value Empathy, which we introduced at the start of the year. They have listened to each other and to our customers and partners to truly showcase our innovation and creativity."
Blue Yonder's new company tagline "Fulfill Your Potential" encourages associates to reach their very best both at work and in their community. A few ways Blue Yonder helps its associates "fulfill their potential":
Core Values: At the heart of the company are its Core Values – Results, Relentless, Teamwork and Empathy – which unite and engage its associates. These values make the company stand out from its competition.
Lifelong Learning: The company is committed to continuous learning and development for its associates, which includes online trainings, leadership and frontline manager training programs, and a partnership with LinkedIn Learning.
DIVE (Diversity, Inclusion, Value and Equality): Launched earlier this year, the company's DIVE imperative is focused on creating an inclusive and diverse environment where associates can thrive with the freedom to be unique and authentic.
Associate-Led Resource Groups: As part of DIVE, associates can create associate-driven, associate-led interest groups. Groups already engaging includes the Women's Interest Network (WIN), which aims to build women's leadership skills and creates awareness about gender nuances of leadership. WIN chapters in Blue Yonder's global offices organize local events and networking opportunities to drive innovation and foster creativity. The company is currently establishing a Black Interest Group (BIG) to provide a voice and growth opportunities for Black associates and to drive positive changes within the company and society. BIG will serve as a force for dialogue, action, and positive change.
Community Engagement: All associates are provided two days of paid volunteer time off each year to be used for community service and activism, and/or to participate in election activities. Blue Yonder recognizes that participating in community activities will enrich and inspire the lives of its associates.
#MindtheHungerGap: As part of a global initiative aimed at closing the hunger gap, Blue Yonder has formed close partnerships with Feeding America, the Global Foodbanking Network and European Food Bank Federation, which have enabled the company to engage with networks of hunger relief organizations internationally to improve the distribution of food to those in need. Associates are encouraged to volunteer with these organization and make donations that are matched by the company.
"This is the most comprehensive corporate awards program in Arizona," says Denise Gredler, CEO of BestCompaniesAZ and co-founder of the Most Admired Companies award program. "These winners are joining a prestigious group of employers, who greatly impact the state of our economy. We are grateful for their contributions to the community and making Arizona one of the best places to live and work in the U.S."
All of the Arizona Most Admired winners will be recognized in a special editorial report inside the September/October issue of Az Business magazine and at an awards reception being held Oct. 15, 2020.
To see career opportunity available at Blue Yonder visit Careers.BlueYonder.com.
In The News
Analyst Reports