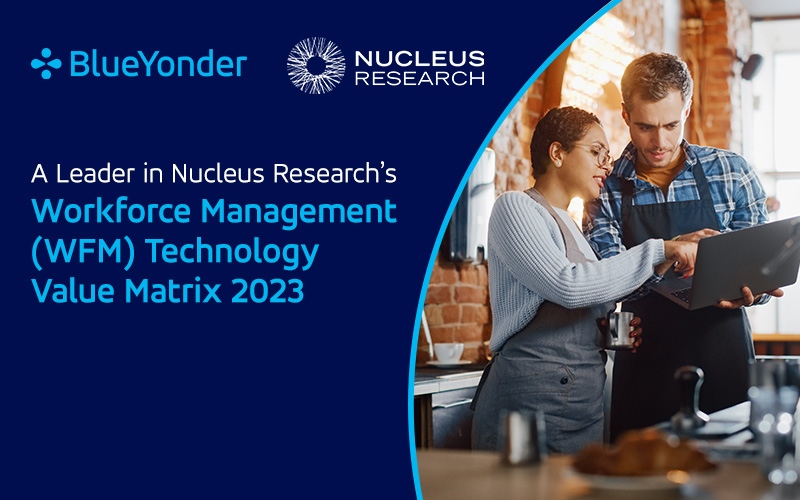 Blue Yonder's workforce management (WFM) solution stands out as a Leader in its ability to improve complex workforce operations for organizations, as well as its functionality and usability
SCOTTSDALE, Ariz. – May 17, 2023 – Blue Yonder, a leading digital supply chain and omni-channel commerce fulfillment provider, is positioned as a Leader in the recently released Nucleus Research WFM Technology Value Matrix 2023 based on its workforce management (WFM) solution's ability to meet the needs of global retailers, wholesalers, and manufacturers. This is the second year in a row Blue Yonder has been named in this report.
Blue Yonder was one of six vendors named a Leader among the vendors included in the report. The report cites several reasons Blue Yonder's WFM is a Leader including:
Enabling organizations to automate labor plans, labor forecasts, and schedules to significantly reduce the time it takes to complete a schedule while improving manager productivity.
Offering a holistic approach to meet its customers' WFM needs by providing time capture, attendance management and payroll capabilities.
Scheduling functionality that enables managers the option to generate blank schedules that meet demand needs while giving employees the ability to self-select shifts that match their individual preferences.
Aligning business needs with an employee's desired shifts by taking into account employee preferences and skills and creates schedules through the automated scheduling functionality.
Offering compliance management capabilities that ensure schedules are compliant with local, state, and federal regulations, as well as internal standards and needs.
Providing long-range labor planning capabilities that analyze real-time and historical data to determine future staffing and labor budget requirements.
Offering strong dashboarding capabilities that improve visibility at both the executive and manager levels.
"Blue Yonder provides its customers with broad WFM capabilities that are well-suited to the needs of organizations with complex workforce operations, such as large retailers, manufacturers, and wholesalers," said Evelyn McMullen, research manager, Nucleus Research. "Blue Yonder differentiates itself from competitors through its native Supply Chain Planning functionality which provides customers full visibility into operations with a unified forecast that aligns resources with demand and can help businesses pivot to changes as soon as they occur."
To enhance its current capabilities, Blue Yonder recently announced its plan to establish a Unified Resource Management, integrating labor scheduling and execution solution in real time to create highly efficient and streamlined enterprise at every node in the supply chain, from scheduling people and robots to reserving trucks and warehouse doors. Unified Resource Management evolves workforce software into an enterprise operations solution, coordinating all resources and acting as a digital assistant to dynamically execute a success plan for product movement. These composable microservices will provide available to promise and commit microservices of human and non-human resources across the supply chain.
"Today's labor challenges require a solution that offers flexible scheduling, simplified labor compliance, time and attendance management, and long-range staff planning – all things offered by our Blue Yonder Workforce Management solution. And as we launch our Unified Resource Management microservices, our goal is to help our customers manage labor shortages and automate operations in an efficient manner that in turn helps them reduce turnover and achieve higher levels of productivity and engagement for the frontline and managers alike," said Julie Hunt, general manager, Workforce Management, Blue Yonder.
For this Technology Value Matrix, Nucleus evaluated 19 WFM solutions that stand out in their ability to improve workforce efficiency for organizations. The Matrix positions vendors in the market based on the paired functionality and usability of the software and the value delivered to customers. Only six vendors, including Blue Yonder, were named as a Leader in the Matrix.
Additional Resources:
About Blue Yonder
Blue Yonder is the world leader in digital supply chain transformations and omni-channel commerce fulfillment. Our end-to-end, cognitive business platform enables retailers, manufacturers and logistics providers to best fulfill customer demand from planning through delivery. With Blue Yonder, you'll unify your data, supply chain and retail commerce operations to unlock new business opportunities and drive automation, control and orchestration to enable more profitable, sustainable business decisions. Blue Yonder – Fulfill your PotentialTM  blueyonder.com
"Blue Yonder" is a trademark or registered trademark of Blue Yonder Group, Inc. Any trade, product or service name referenced in this document using the name "Blue Yonder" is a trademark and/or property of Blue Yonder Group, Inc. All other company and product names may be trademarks, registered trademarks or service marks of the companies with which they are associated.
###
In The News
Analyst Reports