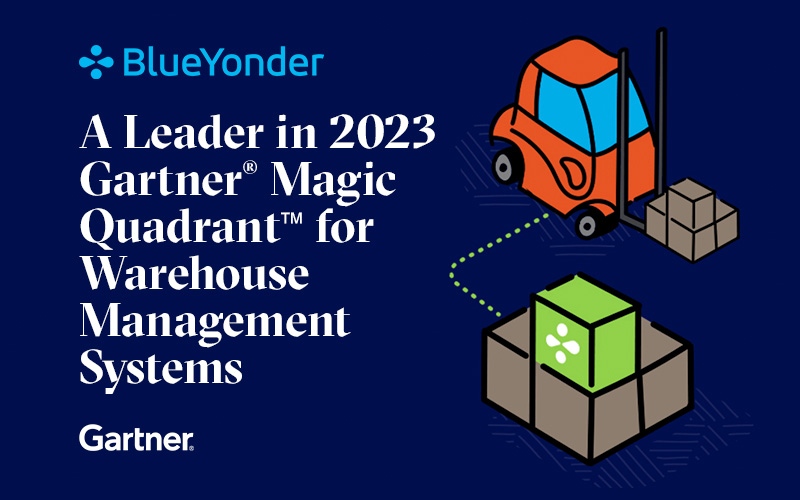 Blue Yonder is the only company recognized as a Leader in three Gartner Magic Quadrant reports covering Supply Chain Planning Solutions, Transportation Management Systems and Warehouse Management Systems
SCOTTSDALE, Ariz. – May 16, 2023 – Blue Yonder, a leading digital supply chain and omni-channel commerce fulfillment provider, has been positioned by Gartner as a Leader in the recently released 2023 Gartner Magic Quadrant for Warehouse Management Systems1 (WMS) based on the "Ability to Execute" and "Completeness of Vision" axes. Blue Yonder attributes this position to the depth and breadth of its Warehouse Management System and the power of its Luminate® Platform.
Blue Yonder has been named a Leader for the 12th time in a row in the Gartner Magic Quadrant for WMS 2. Blue Yonder believes its position as a Leader in the 2023 report represents the company's strengths and cautions in inventory management, workforce/labor management, labor forecasting and scheduling, traceability, and performance management, among other criteria.
Blue Yonder customers span 19 vertical industries, including 3PL, consumer packaged goods (CPG), food & beverage (F&B), and retail. Blue Yonder has a strong history of delivering WMS solutions to manage intricate warehouse operations for large, complex and diversified customers and uses both its strong partner ecosystem globally and its Blue Yonder Global Professional Services to implement its warehouse solutions. The solution can also integrate with technologies such as robotics, internet of things (IoT), artificial intelligence (AI), and machine learning (ML).
"The dynamics of fulfillment – whether from a traditional distribution center, micro-fulfillment center or dark store – have changed and the need for employee retention has grown. Blue Yonder delivers a cloud enabled, scalable, and seamless Warehouse Management System that can help companies address site-specific requirements and manage their workforce, while fulfilling orders to match customer demand," said Gurdip Singh, chief product officer, Blue Yonder. "Our 2023 Supply Chain & Logistics Executive Survey showed that 44% of logistics executives plan to implement and/or enhance their WMS in the next 12 months, up from 42% last year, which we feel highlights its growing importance. Blue Yonder's WMS – powered by Luminate Platform – allows companies to meet the needs of the ever-evolving market."
Blue Yonder's WMS was built to recognize and react to critical characteristics across industries, from the ability to process various product attributes, support omni-channel commerce and fulfillment, balance shelf life and productivity for perishables for retailers, or navigate complex regulatory requirements for manufacturers. Blue Yonder empowers businesses to deliver consistently high service at a value-driven cost. Companies can drive improvements with real-time transaction processing, optimized storage and selection strategies, directed task management, integrated labor standards and more.
Blue Yonder continues to innovate and recently announced that it is bringing its transportation, warehouse, store execution, order management (OMS), workforce, and labor management solutions under one solution portfolio to offer end-to-end control for retailers, manufactures and third-party logistics (3PL) companies. By bringing these execution solutions together, Blue Yonder provides seamless interoperability while delivering the expectations of commerce seamlessly. In addition, the company's innovations in micro-fulfillment solutions are serving today's warehousing and store fulfillment operations with a simple, scalable solution; these capabilities allow customers to maintain high inventory accuracy with speed and efficiency for omni-channel fulfillment.
Arcadia Cold has chosen to implement Blue Yonder's warehouse management system (WMS), labor management and warehouse tasking to futureproof its warehouse and transportation operations. "As a fast-emerging logistics company, we were seeking a supply chain solutions provider that could help us scale our operations and be a trusted advisor as our business grows. We felt Blue Yonder was the best fit as their logistics solutions are always well ranked and, after a thorough review, determined they best met our business needs," said Chris Lafaire, CIO, Arcadia Cold.
With this latest Gartner Warehouse Management System Magic Quadrant, Blue Yonder is the only company recognized a Leader in three Gartner Magic Quadrant reports3 covering Supply Chain Planning, Transportation Management Systems and Warehouse Management Systems – consistently for the past three years.
Additional Resources:
Sources:
1 Gartner, Magic Quadrant for Warehouse Management Systems, Simon Tunstall, Dwight Klappich, Rishabh Narang, Federica Stufano, 8 May 2023.
2 Blue Yonder was previously listed as JDA because the company rebranded in early 2020. Also, recognitions were in the post-JDA/RedPrairie acquisition timeframe announced in 2012.
3 Gartner, "Magic Quadrant for Supply Chain Planning Solutions," Pia Orup Lund, Amber Salley, Tim Payne, Janet Suleski, Joe Graham, Caleb Thomson, 2 May 2023; "Magic Quadrant for Transportation Management Systems," Brock Johns, Oscar Sanchez Duran, Carly West, 28 March 2023; "Magic Quadrant for Warehouse Management Systems," Simon Tunstall, Dwight Klappich, Rishabh Narang, Federica Stufano, 8 May 2023.
Gartner does not endorse any vendor, product or service depicted in its research publications, and does not advise technology users to select only those vendors with the highest ratings or other designation. Gartner research publications consist of the opinions of Gartner's research organization and should not be construed as statements of fact. Gartner disclaims all warranties, expressed or implied, with respect to this research, including any warranties of merchantability or fitness for a particular purpose.
GARTNER is a registered trademark and service mark of Gartner and Magic Quadrant is a registered trademark of Gartner, Inc. and/or its affiliates in the U.S. and internationally and are used herein with permission. All rights reserved.
About Blue Yonder
Blue Yonder is the world leader in digital supply chain transformations and omni-channel commerce fulfillment. Our end-to-end, cognitive business platform enables retailers, manufacturers and logistics providers to best fulfill customer demand from planning through delivery. With Blue Yonder, you'll unify your data, supply chain and retail commerce operations to unlock new business opportunities and drive automation, control and orchestration to enable more profitable, sustainable business decisions. Blue Yonder – Fulfill your Potential™ blueyonder.com
"Blue Yonder" is a trademark or registered trademark of Blue Yonder Group, Inc. Any trade, product or service name referenced in this document using the name "Blue Yonder" is a trademark and/or property of Blue Yonder Group, Inc. All other company and product names may be trademarks, registered trademarks or service marks of the companies with which they are associated.
###
In The News
Analyst Reports