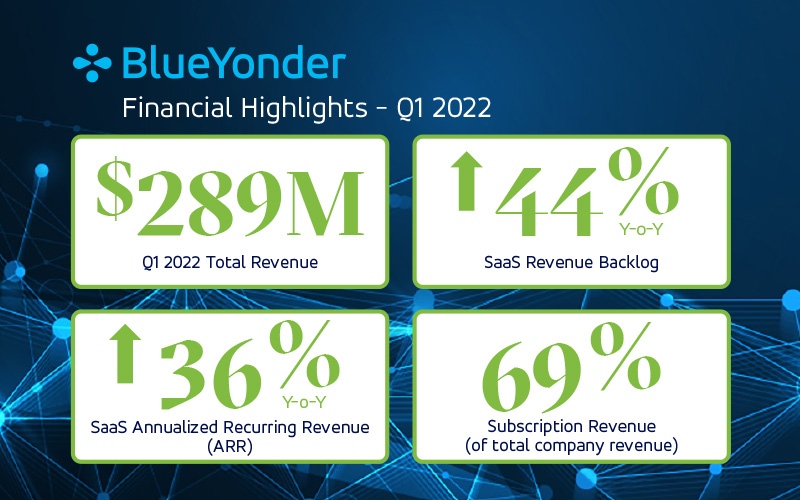 First quarter SaaS revenue grew 37% year-over-year; SaaS revenue backlog was $1.17 billion, up 44% from Q1 2021
SCOTTSDALE, Ariz. – May 11, 2022 – Blue Yonder Holding, Inc. (Blue Yonder), announced unaudited results for the fiscal first quarter ending March 31, 2022. SaaS revenue grew to $113 million in Q1 2022, up 37% compared to Q1 2021 and comprised 39% of total revenue. SaaS annualized recurring revenue (ARR) for Q1 2022 was $505 million, up 36% compared to Q1 2021. Total subscription revenue1 represented 69% of total revenue.
The Luminate® Commerce segment of the business, which spans e-commerce order management and digital fulfillment microservices, achieved the best quarter in its history with notable wins, including at Asda and Wilko. Blue Yonder's Luminate Commerce OMS microservices were also recently recognized when Blue Yonder was ranked as a Technology Leader in the Quadrant Knowledge Solutions SPARK Matrix: Omnichannel Order Management Systems (OMS), 2022 report.
"Our performance clearly demonstrates that our customers are responding to today's disruptions and volatility by leveraging our real-time, end-to-end Luminate Platform and edge-aware solutions to deliver transformative business results. Our Q1 2022 SaaS bookings were the highest in a first quarter for the company, highlighted by very strong bookings growth in our Luminate Commerce business. I am pleased to report our Partner First strategy is working as our partners helped us drive significant co-sell acceleration this quarter," said Mark Morgan, Interim CEO, Blue Yonder. "In the first quarter, we hired more than 400 new associates, bringing our company total to more than 5,700 associates worldwide, to fuel the expansion of our company as we continue to grow and scale our business to meet today's market needs."
To further demonstrate the company's strong product offerings, Blue Yonder was positioned by Gartner as a Leader in the Magic Quadrant for Transportation Management Systems2 and a Leader in the Nucleus Research WFM Technology Value Matrix 2022.
First Quarter 2022 Highlights (unaudited)
Total revenue for Q1 2022 was $289 million, up $28 million or 11% year-over-year. Subscription revenue was $199 million for Q1 2022, up $20 million or 11% compared to Q1 2021.
SaaS net revenue retention rate (NRR)3, a key metric which demonstrates that customers are expanding their business with Blue Yonder, was 109% for Q1 2022. SaaS revenue backlog was $1.17 billion, up $356 million or 44% from Q1 2021.
Q1 2022 Customer Momentum
Blue Yonder added 37 new customer logos in Q1 2022 and closed 16 new deals over $500,000. Some of the customers who selected or extended their footprint with Blue Yonder during the quarter include:
Americas: Ajinomoto Foods North America, Leslie's, Inc., Meijer, Moove, Ryder
APAC/EMEA: Asda, Birla Carbon, Hilti Corporation, HJ Heinz Foods UK Ltd, Krones AG, Lenovo, PT Kalbe Farma Tbk, PT., Kreasi Tani Laksmi, Sephora, UTAC Holdings Ltd., Wilko, Yokohama-OHY
"We are so excited to welcome thousands of customers and partners both online and back in-person in Orlando, Florida, May 23-25 for our annual customer conference, ICON 2022, where we will showcase more than 50 customer transformation stories. These leaders are rethinking, reinventing and reimagining their supply chains and fulfillment strategies using our intelligent platform and taking the autonomous supply chain to the edge," said Morgan.
1 Subscription revenue consists of fees from maintenance services, cloud services and term software licenses.
2 Gartner, "Magic Quadrant for Transportation Management Systems," Brock Johns, Oscar Sanchez Duran, Carly West, 29 March 2022.
3 Net revenue retention rate includes impact of customer attrition and expansion year over year and excludes impact from new customers.
About Blue Yonder
Blue Yonder is the world leader in digital supply chain and omni-channel commerce fulfillment. Our intelligent, end-to-end platform enables retailers, manufacturers and logistics providers to seamlessly predict, pivot and fulfill customer demand. With Blue Yonder, you can make more automated, profitable business decisions that deliver greater growth and re-imagined customer experiences. Blue Yonder – Fulfill your Potential™  blueyonder.com
"Blue Yonder" is a trademark or registered trademark of Blue Yonder Group, Inc. Any trade, product or service name referenced in this document using the name "Blue Yonder" is a trademark and/or property of Blue Yonder Group, Inc. All other company and product names may be trademarks, registered trademarks or service marks of the companies with which they are associated.
###
In The News
Analyst Reports