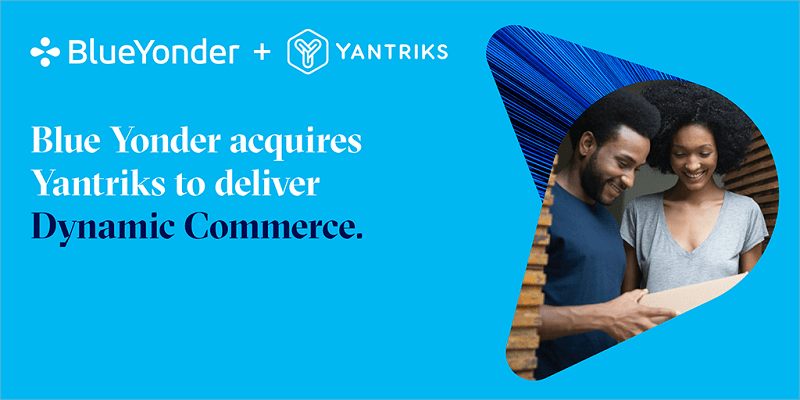 Combined company delivers superior e-commerce experiences through a reimagined customer-centric supply chain
SCOTTSDALE, Ariz. – July 23, 2020 – Blue Yonder today announced it has acquired Yantriks, a SaaS provider of commerce and fulfillment microservices. This acquisition combines real-time transactional systems with supply chain planning, forecasting and fulfillment solutions, to power modern commerce. With this combined offering, companies can integrate all their supply chain assets to deliver a differentiated experience to their customers right at the beginning of the shopping process.
"Companies, more so than ever before, are seeking to deliver products to customers with unprecedented velocity, at promised delivery times, with optimized costs through complete plan-to-order-to-fulfillment alignment," said Girish Rishi, chief executive officer, Blue Yonder. "The combination of Yantriks and Blue Yonder brings together end-to-end systems that begin with the very start of the shoppers' journey and allows the entire supply chain to be organized around their preferences and choices."
"Customers increasingly expect a unified experience that is no longer just about brand, product and price," said Eugene Amigud, the founder of Yantriks. "The supply chain, its capabilities, and the ability to promise and deliver customer-facing fulfillment strategies in real-time, is the differentiator enabling B2B and B2C companies to adapt, evolve, and succeed."
Yantriks' solutions, coupled with Blue Yonder's Luminate Commerce solutions, can augment customers' existing systems, and are available to deploy today.
Read our blog to learn how Blue Yonder's acquisition of Yantriks further enables:
Real-time inventory visibility and order fulfillment
End-to-end supply chain visibility
Personalized consumer experiences
About Yantriks
With a unique combination of technology and professional services expertise, Yantriks helps industry-leading retail brands unify inventory and fulfillment data into a single platform to create personalized digital commerce experiences that result in higher conversion rates, lowered cart abandonment, and increased customer satisfaction. The company was founded in 2014 by experts in the eCommerce and order management industry and has offices in Westborough, Mass. and Bangalore, India. For more information visit www.yantriks.com.
About Blue Yonder
Blue Yonder (formerly JDA Software) provides seamless, friction-free commerce, empowering every organization and person on the planet to fulfill their potential. Blue Yonder's machine learning-driven digital fulfillment platform enables clients to deliver to their customers when, how and where they want it. Applying over 35 years of domain expertise, contextual intelligence and data science, Blue Yonder is helping more than 3,000 of the world's leading manufacturers, retailers and logistics companies create more autonomous, sustainable and profitable operations. blueyonder.com
"Blue Yonder" is a trademark or registered trademark of Blue Yonder Group, Inc. Any trade, product or service name referenced in this document using the name "Blue Yonder" is a trademark and/or property of Blue Yonder Group, Inc.
Blue Yonder
15059 N Scottsdale Rd, Ste 400
Scottsdale, AZ 85254
###
In The News
Analyst Reports