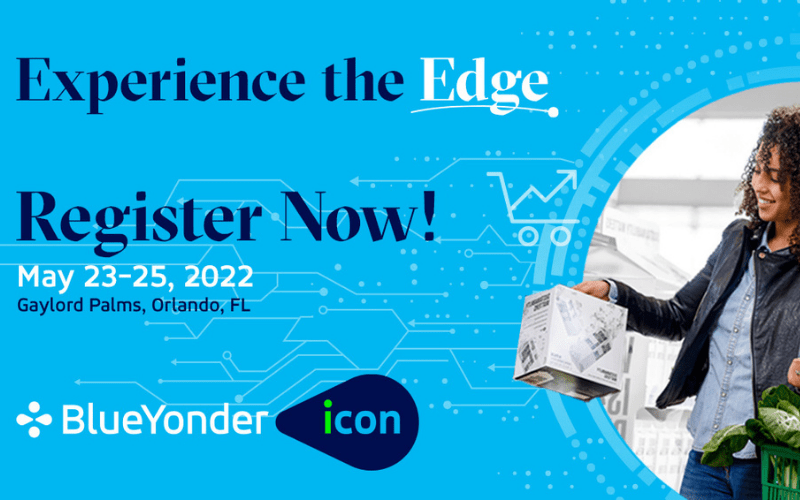 Customers will "Experience the Edge" at ICON 2022 and how to reimagine, rethink and reinvent their digital supply chains and fulfillment to drive competitive advantage
Blue Yonder to plant a tree and donate to World Central Kitchen for each registration to further its mission to create more sustainable supply chains
SCOTTSDALE, Ariz. – April 21, 2022 – Manufacturing, logistics and retail industry leaders are invited to Orlando to hear first-hand stories of digital transformation across supply chain and omni-channel fulfillment strategies at ICON 2022. Supply chain's biggest conference will take place both in-person and virtually May 23-25, 2022, live from Orlando, Florida. The event will feature over 170 sessions, including 50-plus customer presenters, along with an Expo Hall that will feature Blue Yonder's solutions and more than 60 ecosystem partners.
Blue Yonder is offering ICON 2022 registrants two ways to help strengthen its ESG commitment and continue to showcase its mission that supply chain can save the world through the support of two organizations:
Blue Yonder will donate one tree for every ICON 2022 registration, up to 1,000 trees, with The Canopy Project. Blue Yonder has supported The Canopy Project for the past six years, planting close to 174,000 trees.
Blue Yonder will also donate $100 for each paid, in-person registration to Chef José Andrés' World Central Kitchen in its mission to aid and feed Ukrainian refugees. Blue Yonder has raised more than $32,000 to date for this effort through associate donations and a company match, which it kicked off at the start of the conflict.
Featured general session speakers include these supply chain and retail leaders:
Julie Dell'Aniello, President, Martin-Brower of Canada
Keith Rothstein, GVP Merch Services and Strategy, Meijer
Kehat Shahar, Corporate Vice President Global Supply Chain, Micron Technology
Jodi Larson, General Manager, Azure Supply Chain Strategy & Transformation, Microsoft
Christian Kleinerman, SVP, Product, Snowflake
JP Saini, Chief Digital & Technology Officer, Sunbelt Rentals, Inc.
Mark Morgan, Interim CEO, Blue Yonder
Desikan Madhavanur, CPO, Blue Yonder
Other Blue Yonder customer and industry speakers at this year's event include more than 50 leading brands such as: Advance Auto Parts, Alcon, Anheuser-Busch InBev, Bayer, Brenntag, Campbell Soup Company, DHL Supply Chain, Distell, Driscoll's, GlaxoSmithKline (GSK), Harris Teeter, Keurig Dr Pepper, Loblaw Companies Limited, Mars, Michaels, Nebraska Furniture Mart, Owens & Minor, Pactiv Evergreen, Penske Logistics, PepsiCo, Petco México, Sainsbury's, Supermercados Peruanos S.A., Tata Consumer Products, Walgreens, and Walmart.
The event will also include insightful presentations from transformation experts including Emily Pfeiffer, Senior Analyst Commerce Technology, Forrester Research; AJ Jorgenson, Vice President of Strategic Engagement and Inclusion, National Association of Manufacturers (NAM); Dr. Stephanie Thomas, Associate Professor of Practice, Supply Chain Management and Executive Director of Women Impacting Supply Chain Excellence (WISE), University of Arkansas; Jon Rahm, 2021 U.S. Open Champion and world top-ranked golfer; and Lindsey Vonn, Olympic Gold medalist and New York Times best-selling author. Attendees will also enjoy a live performance onsite with Grammy Award winning band, Weezer.
"Disruptions in the global supply chains are among the chief concern amongst business leaders today, and Blue Yonder is hyper-focused on helping our customers better predict, pivot and gain advantage from the opportunities these disruptions bring," said Kevin Iaquinto, Chief Marketing Officer, Blue Yonder. "With more than 50 leading brands showcasing their stories of transformation and reinvention success, along with Blue Yonder sessions featuring the innovation, impact and resiliency our platform brings, we are thrilled to bring the industry's best supply chain conference and attendees back together again in-person for the first time in three years."
Blue Yonder will again host developer-focused sessions in its Luminate® Platform/DEVCON track. Sessions in this track are specifically designed for Blue Yonder's technical customers and partners, developers, and IT administrators to go hands on with the Luminate Platform to build value-added solutions on top and bring them to market.
ICON 2022 will also feature an interactive Expo Hall where attendees can:
Network and meet with Blue Yonder and other industry experts.
See some of the latest native SaaS solutions including Luminate Control Tower and Luminate Commerce.
Engage with more than 60-plus Blue Yonder ecosystem partners and learn how their technology enhances Blue Yonder's Luminate Platform.
Diamond partner sponsors at ICON 2022 include: Accenture, EY, HCL and Microsoft. Platinum partner sponsors include: Capgemini, Infosys, Plantensive, and Surge Transportation​.
Additional Resources:
Read Blue Yonder's ICON blogs to learn more about sessions and speakers, as well as what's new
Register for ICON 2022 from May 23-25, 2022, in-person or virtually: blueyonder.com/icon
About Blue Yonder
Blue Yonder is the world leader in digital supply chain and omni-channel commerce fulfillment. Our intelligent, end-to-end platform enables retailers, manufacturers and logistics providers to seamlessly predict, pivot and fulfill customer demand. With Blue Yonder, you can make more automated, profitable business decisions that deliver greater growth and re-imagined customer experiences. Blue Yonder – Fulfill your Potential™ blueyonder.com
"Blue Yonder" is a trademark or registered trademark of Blue Yonder Group, Inc. Any trade, product or service name referenced in this document using the name "Blue Yonder" is a trademark and/or property of Blue Yonder Group, Inc. All other company and product names may be trademarks, registered trademarks or service marks of the companies with which they are associated.
###
In The News
Analyst Reports