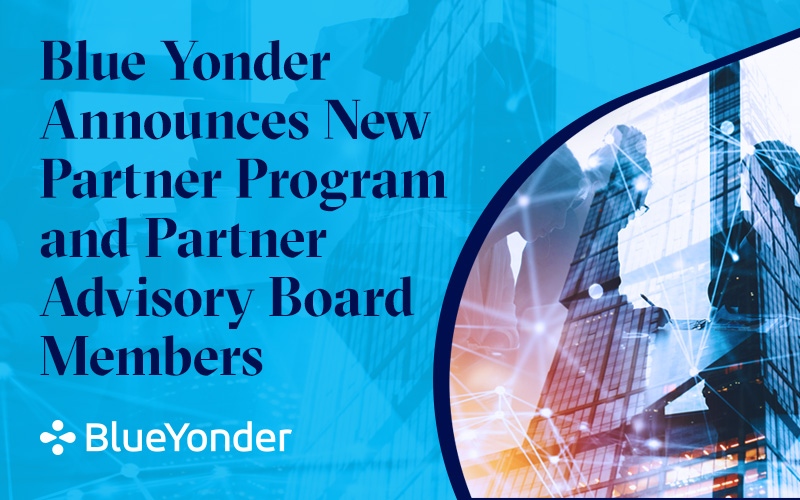 SCOTTSDALE, Ariz. – May 26, 2022 – Blue Yonder, the leader in digital supply chain and omni-channel commerce fulfillment, today announced its latest partner program, PartnerFirst, to further align the program and partners with its SaaS growth strategy. The company also announced the members of its newly formed 2022 Partner Advisory Board, which will fuel the transformation to a PartnerFirst go-to-market approach.
Blue Yonder unveiled PartnerFirst, which becomes effective in FY2023, to its partners attending ICON 2022 in Orlando, its annual customer conference. The PartnerFirst program will simplify and standardize how Blue Yonder works with partners to make it easier to scale their businesses with the company. It organizes partner program benefits by tracks – technology, selling and consulting – that scale with partner performance, enabling partners to drive stronger business outcomes for customers by growing their own business along with Blue Yonder's.
Partners can select one or more tracks based on their business models to access benefits that support their go-to-market strategies:
Technology Track: Targeted at edge/enterprise partners who develop and extend Blue Yonder products and solutions with their own IP, leveraging Blue Yonder's Luminate® Platform.
Selling Track: Designed to serve resellers, Managed Services Providers (MSP) and business process outsourcing (BPO) partners to package their customer solutions while incorporating Blue Yonder products and solutions within.
Consulting Track: Focused on the broader business and system integrator community who specialize in implementing Blue Yonder products and complementing them with their own transformation, change management, integration, and managed services.
"As Blue Yonder moves further towards its goal of delivering the Autonomous Supply Chain™ to the Edge, we felt it was important to reimagine our partner program to better reflect how our key partnerships are critical to achieving this goal. PartnerFirst highlights the importance of partners in our growth trajectory and how they not only fit, but help accelerate our strategy and platform capabilities," said Carl DCosta, global senior vice president and general manager, Partner Success, Blue Yonder. "Our newly formed Partner Advisory Board will ensure that the voice of our partners is reflected in both our go-to-market plans and future innovations. We are excited to be working with this prestigious and insightful group of partners as we lead the future of supply chain."
The Blue Yonder Partner Advisory Board provides partners with the opportunity to collaborate with Blue Yonder's executive team and ensure that partners' voices are represented in future strategies and business plans. The Partner Advisory Board discusses topics ranging from:
Blue Yonder's future vision and partners' roles in it.
Previewing Blue Yonder's platform strategy, as well as providing early input on new and existing products and services, so our products are conceived of with partners in mind and are partner ready at launch.
Collaboration on Blue Yonder go-to-market activities approaches.
Discussing and providing industry and market trends that impact Blue Yonder's and its partners' business priorities.
Newly elected board members for 2022 include:
Accenture: Chad Ackermann, Managing Director
Cantactix Solutions: Dan Desmarais, CEO
Deloitte Consulting: Chris Richard, Partner/Principal
EY:  Gaurav Malhotra, Partner/Principal
HCL: Sadagopan Singam, EVP, Digital Business
NA Partner Advisory Council: Amy Higgins, Chairperson
Netlogistik: Francisco (Paco) Giral Lopez, CEO
Open Sky Group: Chad Kramlich, CRO
Plantensive Solutions Group: Dan Luttner, Managing Partner
PwC: Brian Houck, Partner and Supply Chain Solution Leader
Spinnaker: George Fowler, CTO
TCS: Matthew Lekstutis, Global Managing Partner
Blue Yonder plans to add further international partner representation to the advisory board in 2023, as well as launch a separate Technology Partner Advisory Board. Additional information about Blue Yonder's PartnerFirst program, including detailed criteria and benefits, will be announced in Q4 2022.
About Blue Yonder
Blue Yonder is the world leader in digital supply chain and omni-channel commerce fulfillment. Our intelligent, end-to-end platform enables retailers, manufacturers and logistics providers to seamlessly predict, pivot and fulfill customer demand. With Blue Yonder, you can make more automated, profitable business decisions that deliver greater growth and re-imagined customer experiences. Blue Yonder – Fulfill your Potential™ blueyonder.com
"Blue Yonder" is a trademark or registered trademark of Blue Yonder Group, Inc. Any trade, product or service name referenced in this document using the name "Blue Yonder" is a trademark and/or property of Blue Yonder Group, Inc. All other company and product names may be trademarks, registered trademarks or service marks of the companies with which they are associated.
###
In The News
Analyst Reports