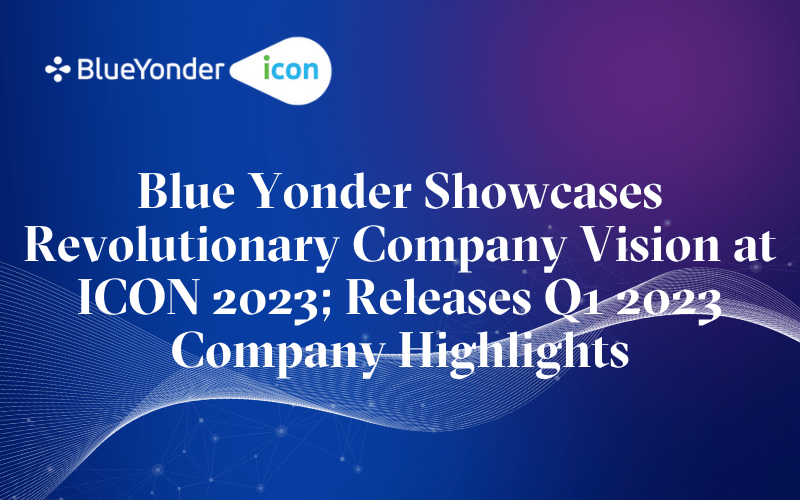 Blue Yonder unleashes an innovation shockwave at its annual customer conference, reimagining the supply chain on top of the data cloud and infinite intelligence powered by AI
SCOTTSDALE, Ariz. – May 3, 2023 – Blue Yonder Holding, Inc. (Blue Yonder), a leading digital supply chain and omni-channel commerce fulfillment provider, today released its Q1 2023 company highlights and company vision shared at its annual customer conference, ICON 2023.
Quarterly Company Highlights
In Q1 2023, Blue Yonder showed significant progress in several areas of its business and is announcing new initiatives, including:
Plans to invest up to $1 billion in product innovations over the next three years.
Added 37 new customer logos in Q1 2023. Some of the customers who selected or extended their footprint with Blue Yonder during the quarter include:

Americas: Detroit Diesel Corporation, G500 Network, onsemi, Tropicana Brands Group,United States Postal Service

APAC/EMEA: Bleckmann, Distell Ltd., Saigon Union of Trading Co-operatives, Seedcom Logistics
Featured in 10 key technology industry analyst reports from Forrester, Gartner and IDC (see full list below).
Looking to onboard 1,000 people in the next 12-18 months.
Company Vision
During its annual customer conference, ICON 2023, Blue Yonder leadership unveiled how the company will future-proof supply chains with a clear vision, the right partnerships, and an innovative roadmap. Blue Yonder is enabling its customers to drive real business value by delivering an unmatched end-to-end customer experience and enabling business leaders to meet their digital transformation and sustainability goals. Key highlights include:
Delivering Interoperability of Supply Chain Execution Capabilities: Retailers and consumer products manufacturers are challenged to predict orders, place inventory and labor in ideal locations, and fulfill orders at the speed of demand. Blue Yonder is bringing its transportation, warehouse, store execution, order management (OMS), workforce, and labor management solutions under one solution portfolio to offer that end-to-end capability for retailers, manufactures and third-party logistics (3PL) companies. By bringing these solutions together, Blue Yonder is able to increase integration and interoperability while delivering the expectations of commerce seamlessly.
Introducing a New and Disruptive Class of Applications that are Cognitive and Connected: Traditional planning processes lack the agility to react in the moment of need, and are hindered by inflexible hierarchies, siloed systems, and inadequate schedules. Blue Yonder is reimagining the planning process to compress time horizons, reduce complexity, and unify data to drive improved business outcomes. It's creating a single planning solution that harnesses information across systems and sources, streamlines interactions and simplifies decisions to quickly respond to business needs. Blue Yonder's next-generation cognitive planning suite unifies supply chain planning, merchandising, and category management solutions. The solutions leverage cognitive artificial intelligence (AI)/machine learning (ML) capabilities to automate scenarios, processes, and decision-making. This is made possible by the Snowflake Data Cloud, which unifies data across internal and external sources and delivers scalability to power the simultaneous execution of hundreds of scenarios.
Generative AI and Co-pilots: Blue Yonder is on the forefront on adopting advanced technologies like large language models and quantum computing solutions. The company is demonstrating supply chain co-pilots utilizing generative AI technologies to transform the user experience. These co-pilots allow supply chain planners to significantly improve the productivity and effectiveness of their time, and simplify the machine-user interaction dramatically. Quantum computing technologies are also being explored to solve the most complex supply chain problems where traditional computing techniques fall short. The company plans to accelerate the adoption of these advanced technologies within Luminate® Platform in 2023.
Unified Resource Management: There is an increased need to better orchestrate both humans and machines, including robots. Traditionally, these resources were coordinated independently across the end user's operation, leading to siloed management and decisions. Blue Yonder announced its plan to establish a Unified Resource Management, integrating labor scheduling and execution solution in real time to create highly efficient and streamlined enterprise at every node in the supply chain, from scheduling people and robots to reserving trucks and warehouse doors. Unified Resource Management evolves workforce software into an enterprise operations solution, coordinating all resources and acting as a digital assistant to dynamically execute a success plan for product movement. These composable microservices will provide available to promise and commit microservices of human and non-human resources across the supply chain. The company plans to release the first microservice, Dynamic Warehouse, in Q3 2023.
Elevating Luminate Platform Powered by Snowflake: Blue Yonder is one of the first supply chain software companies to build an enterprise solution with both analytical and transactional data loads for the Planning domain, natively on Snowflake. In his ICON keynote, Snowflake chairman and CEO, Frank Slootman, said Snowflake shared Blue Yonder's commitment to develop a strategic partnership that extends Snowflake's capability to support Blue Yonder's unique supply chain data workloads, including bringing together analytical and transactional workloads for the Execution and Planning domains. This follows on the heels of last year's partnership announcement between Snowflake and Blue Yonder, which allowed Blue Yonder to integrate Snowflake's data capabilities into its Luminate Platform, an end-to-end supply chain solution, that enables retailers, manufacturers, and 3PLs to leverage Blue Yonder's data cloud offerings to access, share and consume live governed data, industry-specific datasets and data services at scale – without the latency, cost and effort required with traditional marketplaces.
Composable Upgrades: The architecture of Blue Yonder's cognitive applications on Luminate Platform, and the integration of existing Blue Yonder supply chain technologies onto the platform enable existing customers to adopt the composable upgrade methodology. This permits customers to use their existing Blue Yonder IP alongside new cognitive applications seamlessly – and consume new capabilities at their own pace.
Expanded Relationship With Accenture to Increase Adoption of Modern, Connected Supply Chains: In his ICON keynote, Paul Daugherty, group chief executive – Technology and chief technology officer at Accenture, discussed the strategic expansion of the relationship between Accenture and Blue Yonder to develop and go-to-market with new solutions and offerings to provide organizations with supply chains that are resilient, responsive and sustainable. Accenture cloud-native platform engineers and industry experts will work with Blue Yonder to engineer, define, validate, and build solutions on Blue Yonder's Luminate Platform. The companies will take the solutions and offerings to market together to joint customers, leveraging Accenture's delivery experience. This will help customers compress transformation and reinvent their supply chains to fuel profitable growth and optimize costs.
Helping Companies Meet Sustainability Needs: According to Blue Yonder's 2023 Supply Chain Executives Survey, 84% of executives have either increased or kept sustainability initiatives the same over the past year. The survey also showed more organizations are planning to maximize sustainability by seeking sustainable upstream operations and investing in technology and automation that realizes greener supply chain and fulfillment options. To help its customers, Blue Yonder offers the following sustainability functionalities:

Logistics: Blue Yonder's Transportation Management System (TMS) enables customers to optimize and leverage advanced analytics capabilities to reduce empty miles while enhancing customer service, transportation network throughput, and driver schedules. Blue Yonder's Warehouse Management System (WMS) and Labor Management solutions allow customers to make their operations and labor practice more sustainable by tracking performance metrics and adjusting as needed, to reduce waste and improve employee engagement and retention.

Commerce: The need for sustainable fulfillment continues to rise as both consumers and companies are looking for transparency and insight to understand the environmental impact. To help solve this, Blue Yonder is enhancing its OMS microservices to give companies analytics related to green operations and emissions for consumer deliveries. Additionally, Blue Yonder is working to give consumers insight to the carbon impact of their purchase options for various fulfillment options when checking out via a company's online cart. This includes the carbon impact for the consumer having the items shipped express delivery versus a "greener" delivery option such as having all items shipped together rather than piecemeal, as well as helping give consumers a choice on the packaging used and its carbon impact.
"Never before have new technologies fundamentally shifted the human experience multiple times in a single generation. The moment to reimagine how supply chains run is now. We are challenging conventional thinking and not looking at incremental change but a step change in value that delivers five to ten times better outcomes than current approaches. Having experienced incredible disruption, supply chains are in every boardroom conversation and top-of-mind for the C-suite. Underpinned by emerging technologies of generative AI and the data cloud, we hold an opportunity to elevate the way our customers use and benefit from our solutions. Blue Yonder is excited to be at the forefront of making this change thanks to our partnerships with Snowflake and Accenture, as well as how we are shifting our solutions to meet the innovation needs of our customers," said Duncan Angove, CEO, Blue Yonder.
Product innovations on display during ICON include:
Warehouse Execution System: Announced late last year, Blue Yonder's Warehouse Execution System will be in general availability in Q2. An intelligent cloud-native solution powered by Luminate Platform, it is equipped to unlock opportunities to maximize efficiencies for human and machine, as well as accelerates time-to-value across the warehouse. The solution brings together Blue Yonder's Warehouse Tasking, Robotics Hub, and other advanced solutions, along with in-depth analytics and reporting capabilities.
Integrated Demand & Supply Planning for Consumer Industries: To enable CPG manufacturers to reconnect their demand and supply plans, Blue Yonder is making Integrated Demand & Supply Planning for Consumer Industries generally available in Q2. Customers can build resiliency, manage disruptions and exceptions, and improve customer service and revenue with a single end-to-end integrated supply chain plan, role-based workflows, and advanced planning analytics. Learn how Panasonic Industry is utilizing Integrated Demand & Supply Planning to improve production planning, standardize operations and optimize inventory.
Adaptive Fulfillment and Warehousing: Announced late last year, Blue Yonder's Adaptive Fulfillment and Warehousing solution will be in general availability in Q2. The native SaaS solution suite is designed to serve today's warehousing and store fulfillment operations with a simple, scalable solution. These new domain-centric services allow customers to maintain high inventory accuracy with the speed and efficiency required to serve growing demand.
Cognitive Demand Planning: As part of the company's next generation planning capabilities, the first solution launched by Blue Yonder is Cognitive Demand Planning. Backed by AI/ ML capabilities, this solution leverages Luminate Platform's data services to make faster decisions, with greater resilience, and increased collaboration across organizational boundaries. The SaaS solution combines technology and deep business expertise to drive autonomous and agile planning, empowering companies to break through the accuracy ceiling, enhances planner productivity, and reduces time to value.
Yard Management: Launching in Q2, Blue Yonder's Yard Management is an intelligent SaaS solution, fully integrated with Warehouse Management Systems (WMS) and developed to monitor the movement of trailers in yard facilities to minimize complexities and human intervention as operational conditions and priorities changes throughout the day. Yard Management extends and enhances yard capabilities while harnessing the power of AI and ML to unlock greater opportunities for more efficiency and visibility in the yard.
Additional Resources:
Technology Industry Analyst Recognitions:

Forrester

An Introduction to OKRs For AR Planners, with Kevin Lucas

AR Planning with OKRs, with Kevin Lucas

Gartner

Market Guide for Retail Merchandise Financial Planning, 2023, with Jonathan Kutner

The Advancement of Supply Chain Control Towers, with Christian Titze

Emerging Tech Impact Radar: Enterprise Software with Wataru Katsurashima, Shailendra Upadhyay, Balaji Abbabatulla, and Fernando Pereiro

Market Guide for Retail Workforce Management Applications with Sam Grinter and Kelsie Marian

How to Digitize and Optimize Transportation Procurement Using Technology, with Nathan Lease and Carly West

IDC

IDC's Worldwide Enterprise Infrastructure Workloads Taxonomy, 2023, Heather West, Max Pepper, Olga Yashkova, Natalya Yezhkova
Learn how Blue Yonder's customers are persisting during times of disruption to digitally transform their supply chains and reimagine the consumer experience:
Blue Yonder is the world leader in digital supply chain transformations and omni-channel commerce fulfillment. Our end-to-end, cognitive business platform enables retailers, manufacturers and logistics providers to best fulfill customer demand from planning through delivery. With Blue Yonder, you'll unify your data, supply chain and retail commerce operations to unlock new business opportunities and drive automation, control and orchestration to enable more profitable, sustainable business decisions. Blue Yonder – Fulfill your PotentialTM blueyonder.com
"Blue Yonder" is a trademark or registered trademark of Blue Yonder Group, Inc. Any trade, product or service name referenced in this document using the name "Blue Yonder" is a trademark and/or property of Blue Yonder Group, Inc. All other company and product names may be trademarks, registered trademarks or service marks of the companies with which they are associated.
###
In The News
Analyst Reports