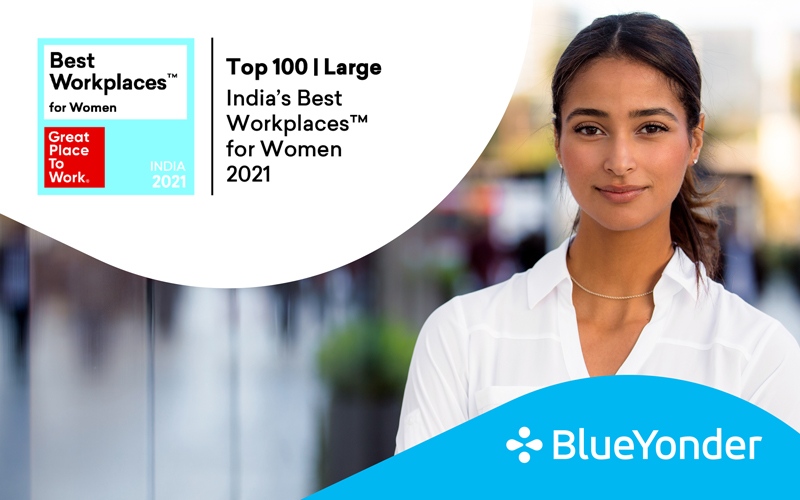 Blue Yonder India is among the Top 100 in Large Companies category
BENGALURU, India, 28 September 2021: Blue Yonder, the world leader in digital supply chain and omni-channel commerce fulfillment, announced today that it was recognized again by Great Place to Work® India, this time as one of "India's Best Workplaces™ for Women 2021" in Large Companies category – Top 100. Blue Yonder was recognized on Sept. 24, 2021, through a virtual awards ceremony organized by Great Place to Work® India.
"We are truly humbled by this recognition. It reflects the efforts by all our associates in all the levels of the organization to make the company more inclusive and diverse, through various channels including associate-driven initiatives. Our associates live our Core Values of Empathy, Results, Relentless and Teamwork supporting our customers, partners and each other in fulfilling their potential," said Somya John, vice president, Associate Success, Blue Yonder.
The recognition celebrates India's best workplaces for women for fostering a sense of gender equity and equality in the workplace and contributing to the vision of making India a great place to work 'for all.' To identify India's Best Workplaces™ for Women 2021, Great Place to Work® India studied 712 organizations. These organizations were evaluated in parameters through anonymous feedback from employees assessed using the Trust Index© survey studying overall feedback from women employees and parity in the experience of women employees on key parameters that impact an employee's perception of a great workplace. They assessed people practices using the Culture Audit© such as inclusion and representation of women across all hierarchical levels in the organization.
"I am proud of this recognition as it exemplifies the work done by each and every Blue Yonder associate and our unyielding commitment to a more equitable organisation," said Umesh Gaur, managing director, Blue Yonder India. "Our Diversity, Inclusion, Value and Equality (DIVE) initiative creates an inclusive and diverse environment where our associates can thrive with the freedom to be unique and authentic." 
This recognition for Blue Yonder adds to its list as India's Best Leaders in Times of Crisis by Great Place to Work, Great Place to Work CertifiedTM in the U.S. and India for 2020-2021, Glassdoor Best Places to Work in 2020, a 2020 azcentral.com® Top Companies to Work for in Arizona and a 2021 Arizona's Most Admired Companies by AzBusiness magazine and BestCompaniesAZ – validating the company's strong workplace culture that is ingrained in its more than 5,400 associates worldwide.
About Great Place to Work®
Great Place to Work® is the global authority on workplace culture. Since 1992, they have surveyed more than 100 million employees worldwide and used those deep insights to define what makes a great workplace: trust. Their employee survey platform empowers leaders with the feedback, real-time reporting, and insights they need to make strategic people decisions. The Institute serves businesses, non-profits and government agencies in more than 60 countries and has conducted pioneering research on the characteristics of great workplaces for over three decades.
About Blue Yonder
Blue Yonder is the world leader in digital supply chain and omni-channel commerce fulfillment. Our intelligent, end-to-end platform enables retailers, manufacturers, and logistics providers to seamlessly predict, pivot and fulfill customer demand. With Blue Yonder, you can make more automated, profitable business decisions that deliver greater growth and re-imagined customer experiences. Blue Yonder – Fulfill your Potential™ blueyonder.com
"Blue Yonder" is a trademark or registered trademark of Blue Yonder Group, Inc. Any trade, product or service name referenced in this document using the name "Blue Yonder" is a trademark and/or property of Blue Yonder Group, Inc. All other company and product names may be trademarks, registered trademarks or service marks of the companies with which they are associated.
In The News
Analyst Reports