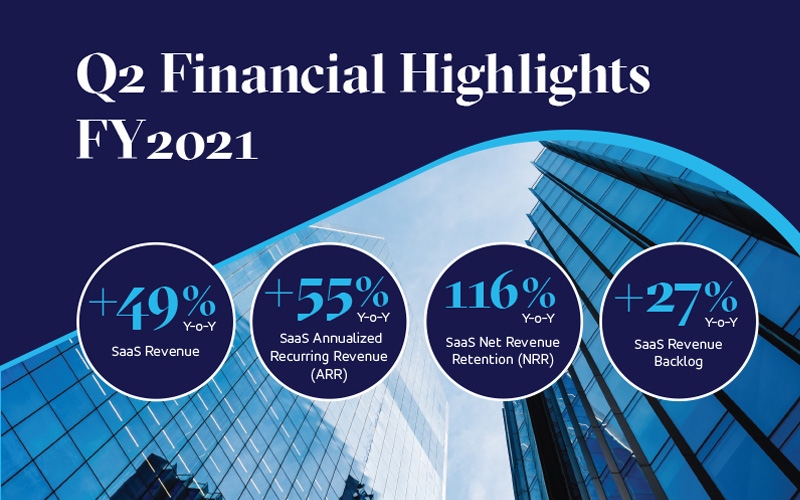 Second quarter SaaS revenue grew 49% year-over-year
SCOTTSDALE, Ariz. – July 29, 2021 – Blue Yonder Holding, Inc. (Blue Yonder), announced unaudited results for the fiscal second quarter ending June 30, 2021. SaaS revenue grew to $90 million in Q2 2021, up 49% compared to Q2 2020 and comprised 33% of total revenue. SaaS annualized recurring revenue (ARR) for Q2 2021 was $398 million, up 55% compared to Q2 2020. Total subscription revenue1 represented 69% of total revenue.
"Blue Yonder is partnering with our customers to co-create modern supply chains that foresee accurate demand and fulfills at optimal rates. Our Q2 results portray the increasing traction of the Luminate Platform, which brings agility and resiliency to our customers," said Girish Rishi, chief executive officer, Blue Yonder. "The Blue Yonder team continues to get due recognition for our innovations and global scale. Microsoft recently recognized Blue Yonder with the coveted Global Independent Software Vendor of the Year award. We were also just named a Leader in the 2021 Gartner Magic Quadrant for Warehouse Management Systems Report, and continue to be the only company recognized a Leader in three Gartner Magic Quadrants covering supply chain planning, transportation management and warehouse management.2"
Second Quarter 2021 Highlights (unaudited)
Total revenue for Q2 2021 was $272 million, up $30 million or 12% year-over-year. Subscription revenue was $187 million for Q2 2021, up $20 million or 12% compared to Q2 2020.
SaaS net revenue retention rate (NRR)3, a key metric which demonstrates that customers are expanding their business with Blue Yonder, was 116% for Q2 2021. SaaS revenue backlog was $870 million, up $185 million or 27% from Q2 2020.
Q2 2021 customer momentum
Blue Yonder added 39 net new customers in Q2 2021 and closed 18 deals over $500,000. Some of the customers who selected or extended their footprint with Blue Yonder during the quarter include:
Americas: Baxter International Inc., Brentwood Originals, Duluth Trading Company, Grupo Jumex, Invitae, Mattel Inc., Norgas, REI, SteelSeries, Syncreon, Súper Xtra, TRAXIÓN, U Brands, Walgreens, ZO Skin Health
APAC/EMEA: Beijing Baobaoaichi, City Plumbing Supplies Holdings Ltd., Essity, GEFCO, Goldwagen, Krones AG, L'Abbondanza, LG Electronics, Marks & Spencer, Wella
1 Subscription revenue consists of fees from maintenance services, cloud services and term software licenses.
2 Gartner, "Magic Quadrant for Warehouse Management Systems," Simon Tunstall, Dwight Klappich, 30 June 2021; "Magic Quadrant for Transportation Management Systems," Bart De Muynck, Brock Johns, Oscar Sanchez Duran, Carly West, 30 March 2021; "Magic Quadrant for Supply Chain Planning Solutions," Amber Salley, Tim Payne, Pia Orup Lund, 22 February 2021.
3 Net revenue retention rate includes impact of customer attrition and expansion year over year and excludes impact from new customers.
About Blue Yonder
Blue Yonder is the world leader in digital supply chain and omni-channel commerce fulfillment. Our intelligent, end-to-end platform enables retailers, manufacturers and logistics providers to seamlessly predict, pivot and fulfill customer demand. With Blue Yonder, you can make more automated, profitable business decisions that deliver greater growth and re-imagined customer experiences. Blue Yonder – Fulfill your Potential™ blueyonder.com
"Blue Yonder" is a trademark or registered trademark of Blue Yonder Group, Inc. Any trade, product or service name referenced in this document using the name "Blue Yonder" is a trademark and/or property of Blue Yonder Group, Inc. All other company and product names may be trademarks, registered trademarks or service marks of the companies with which they are associated.
###