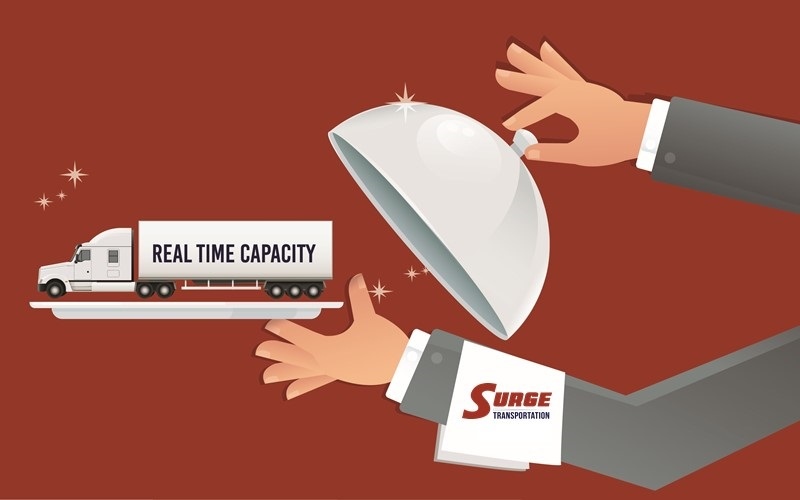 North American 3PL to gain access to more shippers via digital marketplace
JACKSONVILLE, Fla. and SCOTTSDALE, Ariz. – May 6, 2021 – To be able to manage spikes in freight demand, shippers need access to additional carrier coverage on the spot. That's why Surge Transportation is expanding its digital marketplace capabilities with Blue Yonder. Surge Transportation will leverage Blue Yonder's dynamic price discovery service to offer real-time pricing to shippers looking to automate their capacity sourcing when there are gaps in the routing guide.
By integrating with Blue Yonder's dynamic price discovery service, Surge Transportation can provide shippers with real-time rates, especially during peak, seasonal, short-lead time, expedited, or other surge capacity needs.
The dynamic price discovery solution can be adopted by existing Blue Yonder transportation management customers seamlessly. The integration allows for Surge Transportation's real-time, bookable rates to appear in the dynamic price discovery service as an option before sending loads to auction or included as a part of the routing guide. As a result, shippers can make strategic capacity decisions proactively by design and with a provider who can meet their highest service expectations.
"The integration with Blue Yonder will give shippers instant access to guaranteed capacity without having to sacrifice service," said Omar Singh, president of Surge Transportation. "Our rating tool, powered by Blue Yonder's dynamic price discovery service, will allow shippers to design a strategic option before the spot market and overcome the price gauging and low service levels often found in auction."
Real-time pricing allows companies to award business not just dependent on price, but more strategically by factoring in KPIs such as on-time delivery, electronic data interchange (EDI) compliance, tracking compliance and more. The Blue Yonder Logistics Network provides real-time digital connectivity for freight management, reducing shipping costs and increasing profitability for shippers and freight carriers. The dynamic price discovery service – part of the Blue Yonder Logistics Network – is built on the Blue Yonder LuminateTM Platform, powered by Microsoft Azure. Luminate Platform combines data from both internal and external sources – spanning shippers' digital supply chain ecosystems – to leverage both artificial intelligence and machine learning, enabling smarter and more actionable business decisions.
"By quoting real-time rates that reflect current market conditions, without having to go to the spot market, Surge Transportation will ensure Blue Yonder's transportation management customers have access to the most strategic rates with guaranteed capacity and service," said Terry Norton, vice president, 3PL & Transportation, Blue Yonder. "The visibility into pricing and freight capacity is what shippers need to succeed in today's environment and what Surge Transportation will be able to offer to meet those needs."
Additional Resources:
About Surge Transportation
Surge Transportation provides critical carrier capacity for shippers like Anheuser-Busch, KraftHeinz, and Reynolds during challenging times when the routing guide breaks down. Surge recognizes that there is a fundamental problem with routing guide strategy in that forecasts are linear, but demand is not. The result is that about half of the time in day-to-day execution, either shippers do not have enough trucks, or, carriers to not have enough loads. Surge's solution is to provide the industry's best Real-Time price engine, supported by their network of 30,000 carriers, to match shippers with capacity when it is needed the most. Find out how Surge can add value to your routing guide, by visiting surgetransportation.com.
About Blue Yonder
Blue Yonder is the world leader in digital supply chain and omni-channel commerce fulfillment. Our intelligent, end-to-end platform enables retailers, manufacturers and logistics providers to seamlessly predict, pivot and fulfill customer demand. With Blue Yonder, you can make more automated, profitable business decisions that deliver greater growth and re-imagined customer experiences. Blue Yonder – Fulfill your PotentialTM blueyonder.com
"Blue Yonder" is a trademark or registered trademark of Blue Yonder Group, Inc. Any trade, product or service name referenced in this document using the name "Blue Yonder" is a trademark and/or property of Blue Yonder Group, Inc. All other company and product names may be trademarks, registered trademarks or service marks of the companies with which they are associated.
###
In The News
Analyst Reports