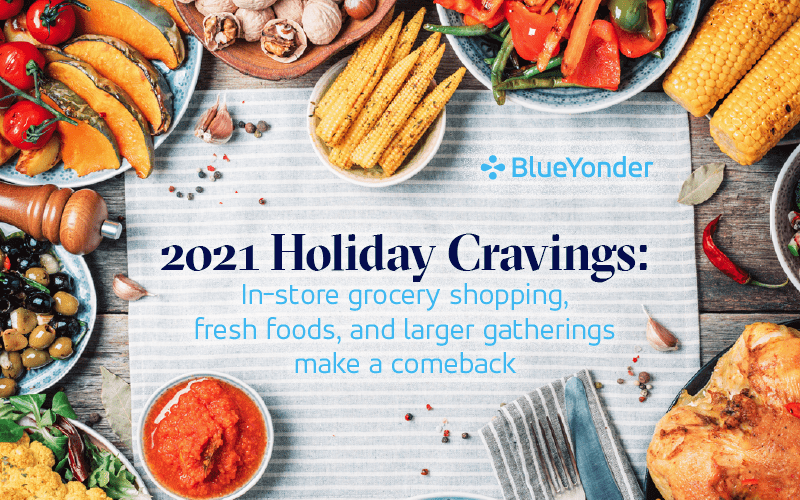 The holiday season is upon us and grocers are preparing for what is bound to be an interesting shopping season. With product shortages still commonplace and consumer habits continuing to shift, grocers need to ensure they are using data-driven solutions to provide a stellar customer experience.
To help uncover the latest consumer trends for grocery shopping in 2021, Blue Yonder surveyed over 1,000 U.S. consumers between Oct. 4-5, 2021, to explore their shopping preferences, the effect of product shortages on their customer experience, and their plans for holiday grocery shopping.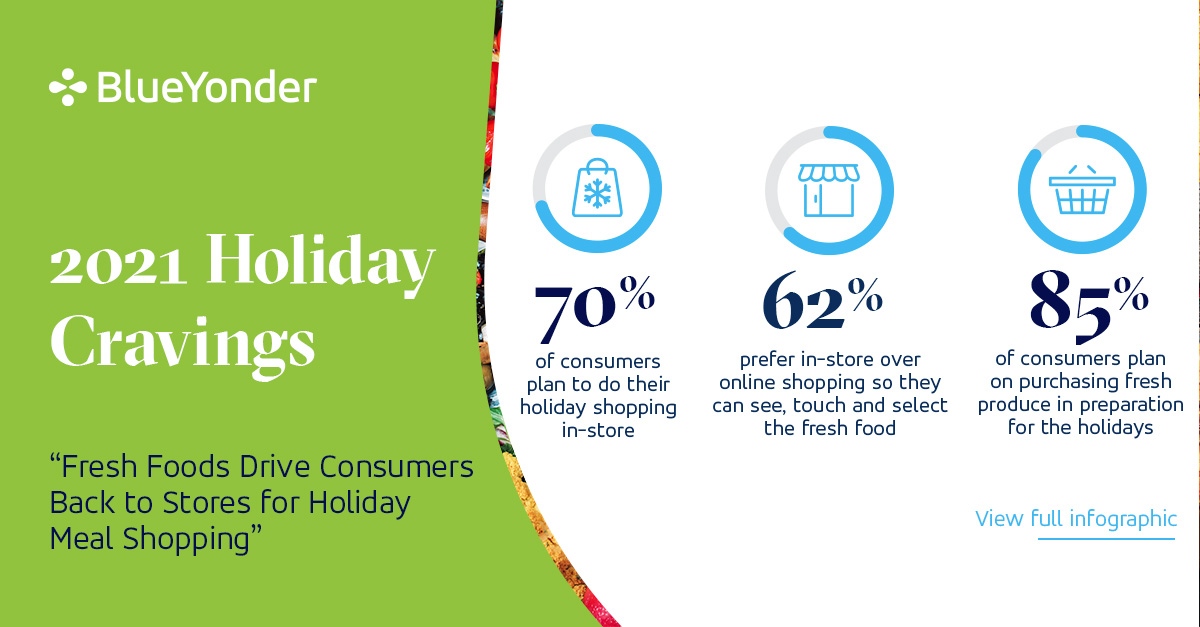 Here are five trends we uncovered:
Touching & Seeing items are the biggest motivators for in-store shopping
Nearly three quarters of consumers (70%) prefer to shop in-store for groceries. This is up from 63% in our October 2020 survey.
Most consumers (62%) said they shop for groceries in-store as opposed to online because they want to physically see, touch, and personally select the fresh food that they buy.
Only 7% of consumers said they prefer to use grocery delivery services, down from 14% in October 2020 while 21% prefer to buy online and pickup curbside or in store, relatively flat (22%) from 2020.
Nearly half (47%) of respondents have not used grocery delivery services in the last six months.
Customers expect fast, fresh, and flexible shopping. While the COVID-19 pandemic highlighted the need for more fulfillment options, in-store shopping isn't going anywhere, and this is especially true for grocery retailers. Grocers that can deliver fresh food will be in the best position to capitalize on the return to grocery stores.
Artificial intelligence (AI) and machine learning (ML) solutions can help retailers maximize fresh offerings and reduce waste by applying an automated, scientific approach to inventory management and markdowns. For example, Blue Yonder's Luminate Pricing uses AI and ML to calculate store and item-specific price elasticities, along with multiple demand-influencing factors such as seasonality, weather and events, to help retailers automate their pricing and markdowns.
Brand loyalty took a serious hit this year
Nearly a third (31%) of consumers say they switched their primary destination grocer in the past year. Of those that switched, 58% plan to stay with their new grocer for the next three months.
Additionally, 32% of consumers are buying store brand products because they were available during the pandemic and are similar in quality to branded products, up from 24% in 2020.
It's simple – if retailers don't have the products consumers are looking for, they will move to another retailer who does. Consumer loyalty starts with personalized shopping experiences that deliver the right product, through the right channel, with the speed and convenience that consumers expect. Retailers will only gain a competitive edge and win customers with unified commerce experiences. Consumers no longer care about name recognition when it comes to grocers and certain products, it's quality, availability and convenience that matter.
The labor shortage is impacting in-store assistance
Almost half of consumers (46%) said that grocery store associates were less available during the pandemic.
Of that group, 39% said this impacted their ability to find an item or request assistance.
Labor shortages continue to be an issue across all industries and are extremely prominent in retail. The number of retail job openings reached 1.2 million in July compared to 876,000 last year, according to the Bureau of Labor Statistics – and consumers are noticing. Grocers can use labor management technology to optimize their workforce efficiency and improve engagement and performance heading into the busy holiday season.
Consumers are planning for larger holiday gatherings
56% of respondents plan to host and grocery shop for a holiday celebration (Thanksgiving, Friendsgiving, etc.) this year, an increase from 47% in October 2020.
55% of consumers are preparing for a medium-sized (6-10 guests) holiday gathering in 2021, up from 48% in 2020. Of those hosting, 45% said this is the same number of guests as last year and 24% are preparing for a larger gathering this year.
Almost three quarters (70%) of consumers that will grocery shop for the holidays this year plan to do so in-store. While 24% plan to use buy online pickup curbside or in store services – only 6% will use a delivery service.
As the size of gatherings continues to increase, grocers should keep an eye on inventory to ensure they can meet demand are for larger turkeys and fresh produce. Employing technology like Blue Yonder's Demand Planning solution, which ingests hundreds of demand-driving variables and uses ML to provide a unique projection, can be extremely valuable for grocers ahead of this busy season.
Preparing for (another) holiday season like never before
Consumer preferences will always shift, however, staying in-tune to where, when, and how customers are shopping will always be the foundation for success for the retail industry. By investing in solutions that can bolster customer experience and provide the best-quality products both in-store and at the customer's door, grocers will not only survive but thrive.
Grocers, learn how Blue Yonder can help you prepare for the holiday shopping season.
In The News
Analyst Reports