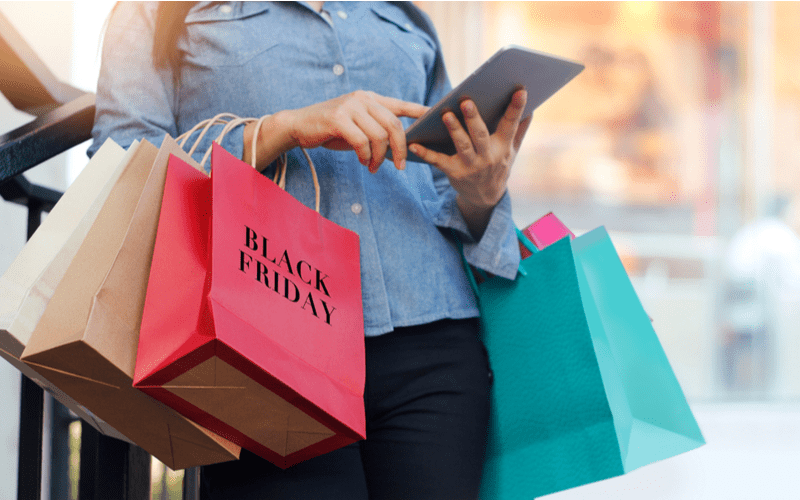 48% of Black Friday shoppers are moderately or extremely concerned about COVID-19 variants
30% of Black Friday shoppers plan to spend more this Black Friday
38% of consumers say their digital shopping has increased compared to last year, and 91% say this will stay the same or increase further in the future
Demand for omni-channel remains as customers head to the high street
LONDON – Nov. 1, 2021 – As the retail sector gears up for the Golden Quarter, new research launched by GWI, promoted by Blue Yonder – a leader in digital supply chain and omni-channel commerce fulfilment – looks at the impact of changing customer confidence and potential supply chain strains during the holiday season.
After interviewing 13,394 consumers aged 16-64 surveyed in the UK and the U.S. since Q2 2021, the research found that despite external unknowns, this year could outpace last year's Black Friday as consumers look to make up for 2020.
The findings come at a time of mounting speculation that panic-buying is inevitable this season as retailers struggle to stock shelves and maintain full-time staff while consumers are already looking to cross items off their Christmas shopping list before shelves are emptied. However, the research points instead to a hopeful season for retailers, suppliers, and consumers alike.
Key findings from the research highlight:
Spending power matches consumer enthusiasm in season of giving
37% of UK consumers feel their personal finances will improve in the coming months compared to only 23% last year. Nearly 30% of Black Friday shoppers in the UK and U.S. say they're planning to spend more this year than they did last year. (GWI's Zeitgeist Black Friday research)
Santa's workshop is open for business – earlier than normal
The research found that 29% of gift givers in the UK say they will plan for winter holidays at least a month in advance. (GWI's Holiday Shopping research from July 2021)
As consumers gear up to spend more this season, any advanced planning means advanced demand on retailers and supply chains. Blue Yonder recommends brands and retailers: 1) pay early attention to visibility across their supply chains to know where their stock is, 2) work to better predict customer demand and 3) provide a more enhanced omni-channel experience for shoppers.
Finding 'Omni-channel Nirvana'
Generally, consumers are continuing to opt for online shopping experiences, as 38% say their digital shopping has increased compared to last year, while 91% estimate their online shopping will either stay the same or increase in the future. (GWI's Holiday Shopping research from July 2021)
More broadly, the majority of UK based Black Friday shoppers plan to shop on online retail sites (70%) followed by brand sites (37%) and in-store shopping at department stores (27%). However, the store remains a dominant force, especially for older consumers. In the UK, 55% of baby boomers say they prefer to shop in-store vs online. (GWI Core Q2 2021 research)
COVID-19 variant fears real among Black Friday Shoppers
48% of Black Friday shoppers are moderately or extremely concerned about COVID-19 variants. (GWI's Zeitgeist Black Friday research)
Coupled with the fact that consumers are returning to lockdown habits of bulk buying – most notably within the grocery sector where more UK consumers shop online for staples than last year, it's clear that a hybrid model is required to ensure all customers have access where and when they need it.
Providing omni-channel, personalised experiences for customers can help alleviate some of this concern: implementing same day click-and-collect or rethinking the role of the storefront can help drive people to the shopping experience they're most looking for, whether it's based on speed, ease, or sustainability.
Amid shortages, shoppers are looking to vary their gifting
As we head toward the holiday season, we're seeing stock shortages, price increases, and a shift among consumers away from traditional goods. According to data, 34% of UK gift givers are on the hunt for the latest tech deals this season, compared to clothing and accessories (63%); entertainment (50%); jewellery (46%) versus gifting an experience – such as a spa trip or day out (39%). (GWI Core Q2 2021 research)
As experience-buys start to overtake goods, it will be important for supply chain businesses to adjust to the continual shift in demands, and what that ultimately means for retailers long term. Currently, retailers and vendors are having to make decisions sooner, making it difficult to change course later in the year. Addressing how external factors will impact shifts in buying trends will be critical to 'getting it right' in 2022.
Retailers are working hard to deliver this year in light of supply chain stressors, lingering COVID-19 fears, and the move away from the high street. The research points to three ingredients for a successful 'Golden Quarter' for retailers: providing a smooth omni-channel experience, promoting transparency throughout supply chains to ensure stock is available as and when customers need it, and forecasting accurately for expanding seasonal demand.
"While we're still having to contend with COVID-19 concerns, people are ready to celebrate the holiday season with loved ones – the way we're used to doing. This new research from GWI shows just how eager people are to spend and make purchases over the Christmas period. Fuelled by concerns around stock shortages, more people are getting organised earlier in a bid to ensure they have the Christmas they hope for. This all means retailers have to work that bit harder to keep up with increased demand for certain products and ensure they don't lose out," comments Katie Gilsenan, Trends Manager at GWI.
"Christmas has always been the most important time for retailers," says Wayne Snyder, VP of Retail Industry at Blue Yonder. "Over the past few years, however, we've seen that spending has started to take place much sooner, with consumers looking to make the most out of seasonal sales on days such as Black Friday, Cyber Monday and Singles Day. Now we're seeing a shift away from buying 'things' to buying 'experiences' – all of these changes have a serious impact on the long-term health of supply chain functionality, and the survival of retail."
"To make the most of this season, retailers must prioritise planning and stock management. This is particularly important this year, following recent shortages, an influx of panic buying, and continued delays due to a lack of lorry drivers. The retailers who fail to get ahead and plan accordingly will fail to capitalise on the opportunity presented by the festive period."

For more insights on this holiday season, please visit www.GWI.com or www.blueyonder.com.
–END–
Editor's Note
Research was conducted through ongoing surveys since Q2 2021, interviewing 13,394 consumers aged 16-64 in the UK and U.S.
Below is a breakdown of the different research referenced in this piece:
GWI's Zeitgeist Black Friday research from August 2021 among 1,181 Black Friday Shoppers across the UK and U.S. aged 16-64.
GWI's Holiday Shopping research from July 2021 among 1,783 UK internet users aged 16-64.
GWI Core Q2 2021 research in the UK among 10,430 internet users aged 16-64.
About GWI
GWI is the leading supplier of target audience insight to the global marketing industry.
Trusted by the world's biggest brands, media organizations, and agencies on a daily basis to get closer to their audiences, the company's flagship survey represents over 2 billion people globally. Using the subscription-based platform, clients like Twitter, Google, Spotify, WPP, IPG, and Omnicom Group gather in-depth insights into behaviors, attitudes, and interests in seconds through a combination of survey data and analytics.
Among a range of leading data products available alongside its flagship survey are:
Those looking for even more bespoke research solutions can enrich GWI data with a range of services like hyper-targeted custom surveys, brand trackers, and recontact studies.
About Blue Yonder
Blue Yonder is the world leader in digital supply chain and omni-channel commerce fulfillment. Our intelligent, end-to-end platform enables retailers, manufacturers, and logistics providers to seamlessly predict, pivot and fulfill customer demand. With Blue Yonder, you can make more automated, profitable business decisions that deliver greater growth and re-imagined customer experiences. Blue Yonder – Fulfill your PotentialTM  blueyonder.com
"Blue Yonder" is a trademark or registered trademark of Blue Yonder Group, Inc. Any trade, product or service name referenced in this document using the name "Blue Yonder" is a trademark and/or property of Blue Yonder Group, Inc. All other company and product names may be trademarks, registered trademarks, or service marks of the companies with which they are associated.
Press Contact:
Hotwire Global
Blueyonder@hotwireglobal.com
###
In The News
Analyst Reports