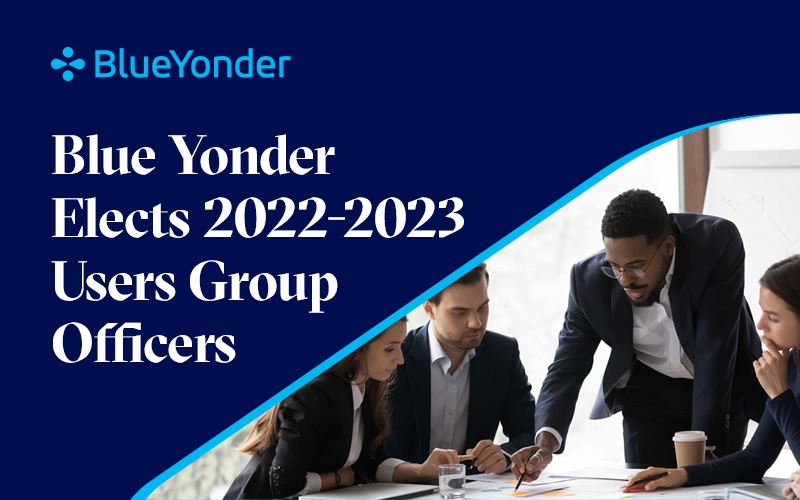 Elected officers charged with leading and growing Blue Yonder Special Interest Groups of more than 3,500 members across 1,200 companies and more than 36 solution areas
Blue Yonder today announced the election of Users Group Officers for 2022-2023. The Blue Yonder Users Group Officers lead the Blue Yonder Special Interest Groups (SIGs), with a goal of increasing customer engagement and elevating the voice of customers.
The Blue Yonder SIGs are designed for and driven by customers, with a unified voice being a powerful tool. Active SIG participation maximizes customers' investment in Blue Yonder solutions and enables members to grow both personally and professionally through collaboration with other retail and supply chain professionals.
Blue Yonder congratulates its Users Group Officers, who include:
President: Denise Sabo, Ralph Lauren Corporation: Denise is the director of global planning systems at Ralph Lauren. Denise has used Blue Yonder's solutions for more than 25 years and is an active member of the Enterprise Planning SIG in addition to previously serving as both a SIG Chair and the Blue Yonder Users Group Vice President.
Vice Presidents:

Eric Liberatore, The Clorox Company: Eric has been a capabilities manager and is responsible for the Category Knowledge Base System at The Clorox Company for the last 16 years. Eric has been the SIG Chair for the Space Automation SIG for over 15 years, as well as an active member of all Category Management SIGs.

Paul Longshaw, Iceland Food Ltd.: Paul is a project and account manager for supply chain at Iceland Foods. Paul has used Blue Yonder's solutions for 25 years and is an active member of the Advanced Replenishment SIG.

Jonathan (Jon) Mayes, Waitrose Ltd.: Jon is the trading grocery development and operations manager for Waitrose Ltd. Jon has been with Waitrose for 21 years – most of that within the supply chain area in both warehouse management and product supply using both Blue Yonder's solutions and third-party software providers. Jon is an active member of the Dispatcher WMS and Warehouse Labor Management SIGs.

Administrative Director: Jamie Routman, Penske Logistics: Jamie is a manager of Logistics Engineering for Penske Logistics where she leads Transportation and Network Optimization initiatives. She has used Blue Yonder's solutions for more than 13 years and is an active member of the Transportation SIG.
"Our customer-led Special Interest Groups play a crucial role in shaping the future direction of Blue Yonder's solutions. Not only do these groups provide highly specialized forums for retail and supply chain professionals to discuss best practices around specific business processes of interest, but they also help contribute to capabilities developed on our product roadmaps," said Puneet Saxena, corporate vice president, Industry Strategies, Blue Yonder.
Officer elections are held every two years with voting by all SIG members. The role of the Users Group officers is to oversee the more than 35 SIGs across a range of solutions. Each SIG is managed by a chairperson and a Blue Yonder associate who serves as SIG manager. The User Group officers are responsible for creating goals and objectives, conducting quarterly meetings with the SIG leadership team, and working to ensure SIG members gain the most value from their Blue Yonder investment.
Blue Yonder SIGs offer an environment of continuous learning in which customers can maximize their investments in Blue Yonder's solutions. SIG members share best practices and have the opportunity to provide vital feedback to Blue Yonder; members are often the first to learn of planned solution enhancements and product direction. To join a SIG meeting, maintenance-paying and active subscription users can register at the Blue Yonder Customer Support website (success.blueyonder.com).
Additional Resources:
Learn more about Blue Yonder Special Interest Groups
Blue Yonder is hosting a number of SIG meetings at ICON 2022, May 23-25, 2022, in Orlando, Florida. To register for ICON, Blue Yonder's annual customer conference, visit: blueyonder.com/icon
Watch the LinkedIn Live on Tuesday, April 19 at 4 p.m. ET to hear Rachael Kennedy from L.L.Bean and Chris Harmon from Harris Teeter discuss the best ways to engage with SIGs at ICON 2022
About Blue Yonder
Blue Yonder is the world leader in digital supply chain and omni-channel commerce fulfillment. Our intelligent, end-to-end platform enables retailers, manufacturers and logistics providers to seamlessly predict, pivot and fulfill customer demand. With Blue Yonder, you can make more automated, profitable business decisions that deliver greater growth and re-imagined customer experiences. Blue Yonder – Fulfill your Potential™ blueyonder.com
"Blue Yonder" is a trademark or registered trademark of Blue Yonder Group, Inc. Any trade, product or service name referenced in this document using the name "Blue Yonder" is a trademark and/or property of Blue Yonder Group, Inc. All other company and product names may be trademarks, registered trademarks or service marks of the companies with which they are associated.
###
In The News
Analyst Reports